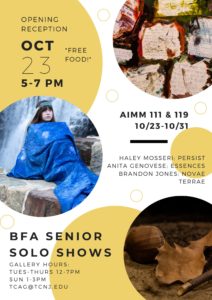 Student Exhibitions by Seniors:
Haley Mosseri, Anita Genovese, and Brandon Jones
Art and Interactive Multimedia Building Student Galleries 111 & 119
October 23rd through October 31st, 2019
Opening Reception October 23rd, 5:00 PM – 7:00 PM
TCNJ Art Gallery- Senior BFA students announced that Session One of the senior solo shows will take place in the Art and Interactive Multimedia Building side galleries (AIMM 113 & 119). Mosseri, Genovese, and Jones advance their knowledge of material processes at TCNJ which now culminates in a gallery setting.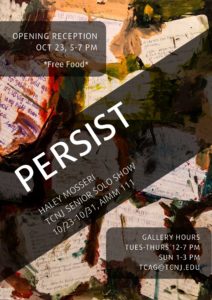 HALEY MOSSERI'S solo exhibition Persist investigates how both internal and external factors have affected her mental health and identity throughout her adolescence and young adulthood. Working in painting, sculpture, video, and installation, she addresses the mental and emotional adversity she has experienced within the last decade of her life. To persist is to continue steadfastly, especially in spite of opposition. Mosseri conveys feelings of vulnerability throughout her work to connect with viewers who have been through similar issues by sharing the story of how she's persisted.
www.instagram.com/haleymosseri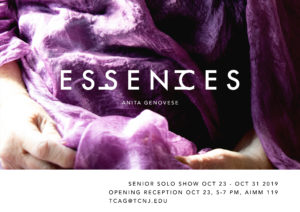 In Essences, ANITA GENOVESE uses photography, metal sculpture, and textiles to bind the essence of ancient ceremony to the modern human feminine ideal. Essence is defined as the core nature of the most important qualities of a person or thing, a property of something without which it would not exist. In her work, Genovese wishes to pursue a familiar or unfamiliar undertone linking female phases and roles in life to the feminine collective past. The headpiece sculptures exist as ceremonial relics that call attention to feminine strength and resilience.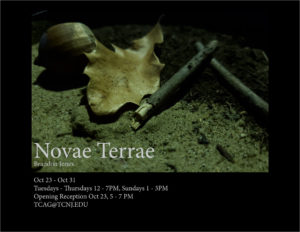 BRANDON JONES'S solo exhibition Novae Terrae seeks to transport the viewer from the confines of the white cube to a fabricated environment reminiscent of another world. Upon entering the space, filled with sculptures and installations, viewers will be provided with an experience intended to contradict reality. Using mixed media sculptures that include materials such as metal, wood, wax, and sheetrock, Jones transforms these simple materials in order to provide an illusion of entering another world.