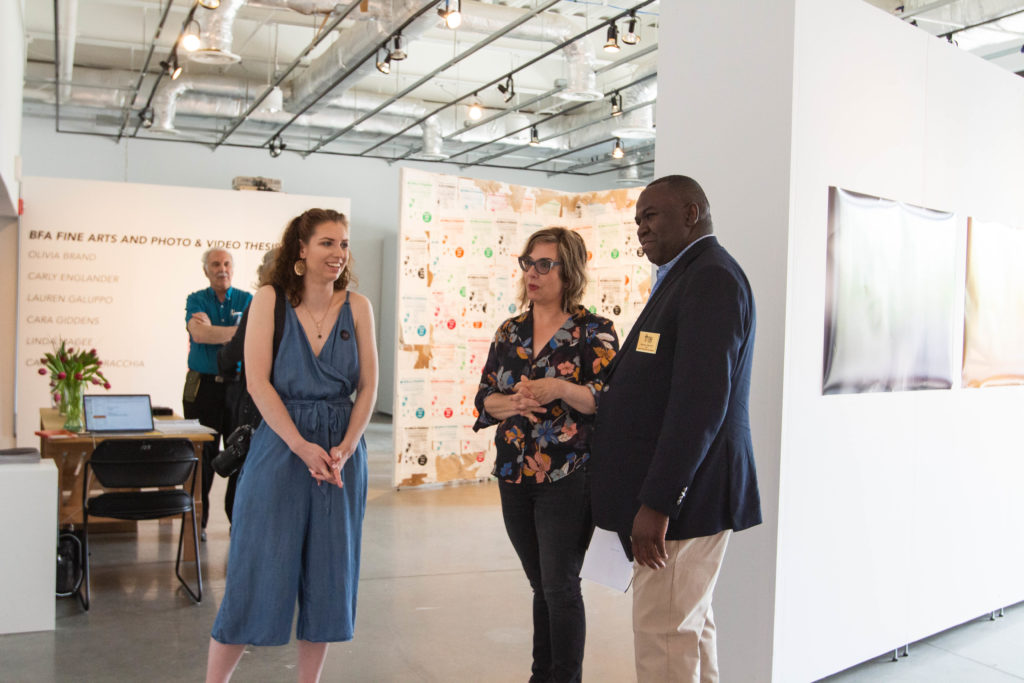 LOUD
TCNJ Fine Art and Photography & Video seniors' BFA exhibition
Wednesday, May 1, 2019- May 24, 2019
AIMM Main Gallery and Side Galleries 111, 119.
Reception: Saturday, May 4, 2019
Artist Talks: Wednesday, May 8th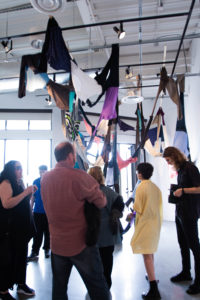 The TCNJ Art Gallery in celebrated the Fine Art and Photography & Video seniors' BFA exhibition, LOUD in the spring of 2019. The exhibition presented twelve female artists as they deconstruct perception of societal expectations. The artworks confront complex themes through photography, video, painting, immersive installations and performance. Exploring human agency, gender fluidity, and material transformation, the artists encourage an alternative experience beyond one's own perspective.
Participating artists included: Olivia Brand, Carly Englander, Lauren Galuppo, Cara Giddens, Linda Magee, Carolyn Mandracchia, Lizzie Mayer, Danielle Rackowski, Courtney Ross, Abigail Rothman, Courtney Ross, and Emily Warakomski. 
Olivia Brand: Through wide-angle landscape photographs of abandoned spaces, my images evoke a range of emotions and reveal a deeper part of my identity. Using specific light and color, I find the past in the present, as it reflects on my personal transformation into womanhood where the weight of the past remains.
Carly Englander: This series of participatory interactions attempts to harmonize and balance the gravities of two independent bodies. To avoid collapse, distributions of weight force energy and preserve balance towards compromise and collaboration. In exchanges of power, a unified entity results from an inevitable mutual dependence.
Lauren Galuppo: My paintings strive to capture the sensuality of the body through broad, luscious, gestural paint strokes. Form, color and texture, combined with stimulating imagery, follow the paint across numerous small scale paintings where I surrender to both the material and the process of painting.
Cara Giddens: In this body of work, I juxtapose the intrusive thoughts and memories that suggest worlds that never existed with my lived reality. Inspired by media, horror, sci-fi, and the absurd, I question the social expectations that limit us, and our desire to negotiate and overcome them.
Linda Magee: My work combines various materials and techniques in non-traditional ways to explore themes of identity, memory, and ageism. Utilizing immersive environments as well as order and repetition of text and image, the work reexamines boundaries by questioning the concept of normalcy, reality, and authenticity, straddling the tangible and the unreal. https://www.mageelinda.com/
Carolyn Mandracchia: I use my body in evocative ways to question societal assumptions around gender, issues of feminine sexuality and self-image.  In combination with personal storytelling, the work seeks to cause discomfort to force contemplation on issues that are always present yet often ignored.
Lizzie Mayer: l investigate addiction and mental health through self portraiture and documentary photography. My interest lies in revealing the tenuous and often hidden line between healthy and unhealthy reliance. I document my own experience in the context of treatment and the larger mental health crisis. www.lizziemayer.com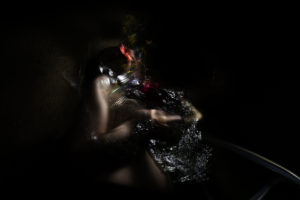 Danielle Rackowski: My work uses photography and video to capture abstract transformations of the self. The process of obscuring my form with light and color during long camera exposures, expresses the desire to liberate the mind and body from personal inhibitions. The enigmatic absence and presence of my physical form transcends and shifts various states of being.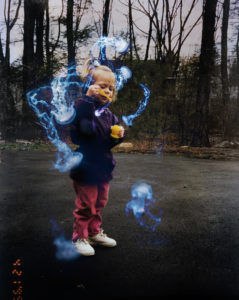 Courtney Ross: Fearing the loss of innocence and imagination my photography attempts to capture my childhood dreams. I insert pictures of myself as a child into a digitally altered and manipulated world to visualize my childhood fantasies and its inevitable loss.
throughcourtneyseyes.com
Abigail Rothman: What do our legal rights mean when they are inaccessible to those without the proper tools to decipher them? Human rights are visualized in a language abstracted through repetition, shape, and binary code. The artwork questions social transparency and accessibility of knowledge as a reflection of extreme political and social hierarchies. www.abigailrothman.com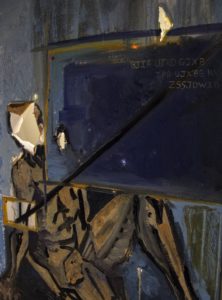 Adrienne Southrey: Through painting and drawing the work explores ways to give form to the sense of an impaired self.  Translated from a stream of consciousness, memory and experience the images appear. The attempt to communicate nearly intangible emotions and ideas is innate to the human experience. https://southrey.weebly.com/
Emily Warakomski: My work explores personal relationships and psychological attachments. Stitching particular articles of clothing together suggests interdependency. The tension on each stitched joint and the significance of the absence of the body varies throughout each work and shows that no relationship is the same.https://emily-warakomski.format.com