Join us for the opening of:
Sayon Park
Special/Elementary Education and Art Major
Art and Interactive Multimedia Building Student Gallery 111
Opening: Wednesday, February 9th, 5:00 – 7:00
Dates: February 9th – 20th, 2022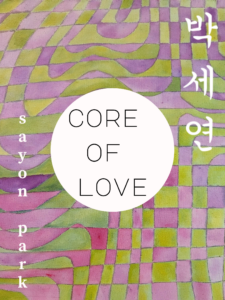 SAYON PARK addresses the core of love: acceptance. In order to love, people must accept one other's pasts, identities, and backgrounds.
Sayon believes that she can not fully love herself or others unless she accepts her full self; that she must be at peace with her past mistakes, her cultural and sexual identity, and her cultural and ethnic background. Rather than explicitly referring to her past experiences and traumas, her work instead presents a series of abstracted Korean characters that spell out the message: '해 세' or 'I love you Sayon Park' in English.
The message has intentions of both confessing her love to the ones she holds dear, and of proclaiming love for herself. The abstraction and distortion of the characters hide the message from plain sight, even to those familiar with Korean. In most Asian families saying 'I love you' casually is an anomaly. Instead affection is shown through acts of service, like making or serving food. 'Core of Love' is a homage to her background, her roots, and her identity – the good and the bad.