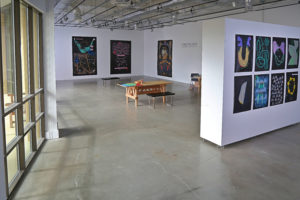 Caroline Kent: A Form Walks Toward You In The Dark
February 5 – March 15, 2020
Opening Day Artist's talk: Wednesday, February 5, 4:00-5:00pm; reception to follow
The College of New Jersey Art Gallery presented Caroline Kent: A Form Walks Toward You in the Dark in the spring of 2020.  Kent, a Chicago-based artist, deploys abstraction as a visual language to describe imagined space in ways both wholly new and somehow familiar. Kent has exhibited her work nationally in exhibitions at The Union for Contemporary Art (Omaha, NE), Depaul Art Museum and UNISEX Gallery (Brooklyn, NY), and Flag Foundation (NY). She was the recipient of a McKnight Foundation Fellowship (2016) and a Pollock-Krasner Foundation Grant (2015) and was a 2017-2018 Shandaken Paint School resident.
Caroline Kent's show featured works on large unstretched canvases, mid-sized traditional canvases, and three-dimensional wall-mounted sculptures that engage with the space of the gallery in unexpected ways. Her work is largely abstract, a style that she was drawn to during her travels in Romania where she reimagined the foreign language as a series of glyphs which took on new meanings based on their physical properties rather than their etymological definitions. To inspire the viewer to grapple with the unfamiliar, many of Kent's works begin with the color black, with abstract shapes, patterns, and glyphs emerging from the darkness. Kent's exhibited work is informed by a paper archive of forms and symbols that provides documentation and inspiration for her larger creations: the exhibition included two grids of these smaller-scale works on paper. By exhibiting both works from Kent's paper archive and the larger-scale works on canvas, the exhibition afforded viewers the opportunity to see how Kent uses repetition to transform, translate, and expand her visual vocabulary.
Text by Isabella Mancuso '20
Related events: Artist's talk with Caroline Kent on Wednesday, February 5 from 4:00-5:00pm. An opening reception and celebration immediately followed the discussion.
For more information about the artist: http://www.carolinekent.com/