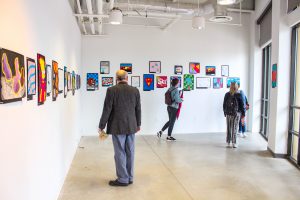 TCNJ's Student Exhibition Program presents a diverse range of exhibition opportunities throughout the academic year in three gallery spaces in the Art & Interactive Multimedia (AIMM) Building—Rooms 111, 118, and 119.
Application Deadlines
Fall 2023 Exhibitions: June 1, 2023
Spring 2024 Exhibitions: November 1, 2023
Who Can Apply
Students from all disciplines can apply to present a solo exhibition, curate a thematic exhibition, or work in a small or large group to organize an exhibit. Student organizations and faculty members can also apply to exhibit TCNJ student coursework.Exhibitions adhere to professional gallery practices and provide hands-on, extracurricular, educational experiences for students. Senior fine art and graphic design majors presenting their senior solo or capstone exhibitions have priority in both the fall and the spring.
Exhibition Dates
For the 2023-24 academic year, we anticipate the galleries will be available the following dates (all subject to change):
Fall term:
September 6-14, 2023

September 20-28, 2023 (tentative)
Spring Term:
January 31 – February 8, 2024


February 14-22, 2024

February 28 – March 7, 2024

March 20 – March 28, 2024
The galleries are reserved for BFA Senior Exhibitions in April and May, but are sometimes available. Check with the gallery for availability.
---
Please read through the guidelines before submitting your application. Submission of an application indicates agreement with terms and polices in these guidelines. These terms are designed to create a professional gallery environment in which the exhibition organizer/curator—Exhibitor—takes full responsibility for the installation, maintenance, and deinstallation of the works on exhibit.
For questions, please contact Margaret Pezalla-Granlund, margarep@tcnj.edu