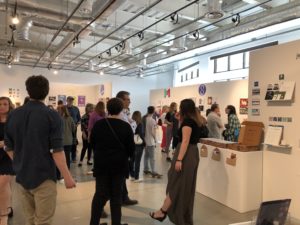 The mission of TCNJ's Art Gallery is to enhance and complement the educational mission of the College and to contribute to the cultural life of the College and the surrounding central New Jersey community. The Art Gallery presents exhibitions that explore diverse cultures and perspectives and that foster visual literacy and critical thinking. The Art Gallery and adjacent Student Galleries serve as public gateways for TCNJ to showcase the intellectual and creative interests and accomplishments of the College. In developing exhibitions and related programs, the Art Gallery collaborates with faculty and students in the Department of Art and Art History and other academic departments across the campus.
Brief History of the TCNJ Art Gallery
A public gallery space at TCNJ was started in the 1960s, and from 1972 to 2009, the Art Gallery was housed in the former Holman Hall. In 2010, the Art Gallery was permanently relocated in a new, state-of-the-art 1,800 square-foot exhibition space within the TCNJ Art & Interactive Multimedia (AIMM) Building.

Over the years, the Art Gallery has presented the work of numerous renowned contemporary artists, including Raymond Pettibon, Martha Rosler, David Hammons, Mark Lombardi, Christian Jankowski, Nari Ward, Michael Landy, and Sebastião Salgado. In recent years, the Gallery has also focused on contemporary art from around the world, including the first exhibition of contemporary Afghan art in the United States, which featured works by artists Lida Abdul, Mariam Ghani, and Aman Mojadidi. The Gallery has also presented art by acclaimed contemporary Cuban artists Alexandre Arrechea, Adonis Flores, Glenda León, Duniesky Martín, and José Toirac; Indian modern masters M. F. Husain, G. R. Santosh, and F. N. Souza; and contemporary Chinese-American artists Zhang Hongtu, Cui Fei, and Zheng Lianjie.

Starting in 2011, the Art Gallery expanded the scope and intellectual rigor of its exhibitions and significantly increased its outreach to the community. As a result, attendance in the Art Gallery has increased and recognition of its programming has included feature articles in The New York Times, art reviews on Newsworks.org and extensive coverage in the regional press. Between 2013 and 2015, the Art Gallery, in collaboration with the Art Education program at the College, hosted a statewide, juried K-12 art exhibition to showcase exemplary artwork created by New Jersey's elementary, middle, and high school students and to expand awareness of the College arts programs throughout the state.