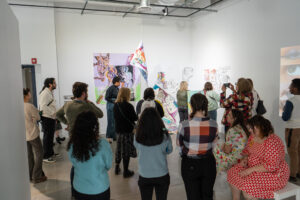 ---
Upcoming Exhibition Schedule
Fall 2023
Off-Kilter, On Point: Art of the 1960s
September 5 – October 29, 2023
Opening Talk with Dean Pamela Barnett, Wednesday, September 13, 4:00 with reception to follow
Image-Movement-Sound Lab
Curated by Elizabeth Mackie and Teresa Nakra
November 8 – December 7, 2023
Weekly performance/events 5:00-7:00 on Wednesdays (11/8, 11/15, 11/29, and 12/6)
Closing Event: December 8, 2023, AIMM After Dark
Fall Solo Series in the Student Galleries
SOLO SERIES #1 Exhibition Dates: October 4- October 18
Opening Reception: October 4
SOLO SERIES #2 Exhibition Dates: October 25- Nov 8
Closing Reception: November 8
SOLO SERIES #3  Exhibition Dates: Dec. 6- December 15
Closing Reception: December 8
Spring 2024
Ukraine
February 7 – March 7, 2024
Opening Event, Wednesday February 7 4:00-5:00, Reception to follow
BFA Graphic Design Exhibition
March- April, 2024
BFA Fine Art Exhibition
April-May, 2024
---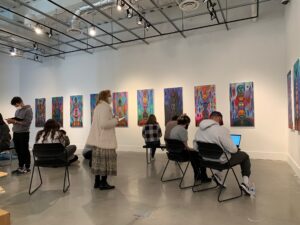 Scheduling Gallery Visits
Classes are always welcome to visit the gallery during regular gallery hours. For a tour, or to visit the gallery outside of regular hours, please contact margarep@tcnj.edu. We do our best to always accommodate special requests.
---
Student Exhibition Spaces
TCNJ has three spaces set aside for student exhibitions, including exhibitions organized as part of a class. If you're interested in using an exhibition space for your course, please contact margarep@tcnj.edu and see our exhibition policies. The Student Galleries also offer students an excellent opportunity to gain some experience exhibiting their work in a gallery space: encourage them to apply for a show.