BFA Senior Solo Shows: Session 1
Lily Gilston, Sarah Valente, Halle Luttrell, Lucia Gardiner, Addison Cooper, Shelly Crooz
Art and Interactive Multimedia Building Courtyard
October 28 – November 4, 2020
Opening Reception October 28th, 5:30 PM – 7:00 PM
Lily Gilston, Sarah Valente, Halle Luttrell, Lucia Gardiner, Addison Cooper, and Shelly Crooz will be exhibiting their artwork in Session One. Their paintings, drawings, prints, sculptures, and installations will be viewed exclusively from the outside, unlike any  solo exhibitions before this semester. These Senior BFA students have learned to be adaptable, inventive, and use creative problem-solving to organize their solo exhibitions in a safe, effective manner. 
The Opening Reception will be held on October 28th, from 5:30 PM – 7:00 PM outside in the AIMM Courtyard, where the artwork is viewable from behind glass windows. Visitors will be required to follow the COVID-19 guidelines implemented throughout the TCNJ campus, including wearing a mask at all times and maintaining 6-feet of social distance.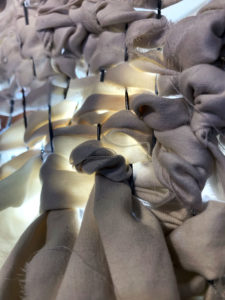 LILY GILSTON juxtaposes soft fibers and rigid structures in multimedia installation to evoke a sense of familiarity and comfort, uncertainty and unease. Gilston's use of materials is important to her process; her hands-on approach to sculpture involves weaving and stitching, among other traditional methods, in unconventional applications. Gilston creates tension between psychological spaces and physical reality in her delicate yet coarse sculptures, prompting conversations about how we interact with and imbue meaning onto our environment.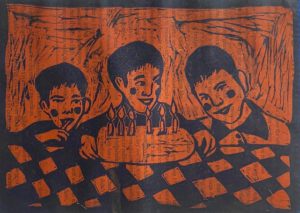 LUCIA GARDINER fuses printmaking and installation to raise questions about tradition, womanhood, and self preservation in her show, Reap What you Sow. By gathering old photos and forgotten family secrets, Gardiner creates a  narrative between consumption and action. She is most interested in the relationship between the tactile quality of her works and their newfound environments. Take a seat- the same one that held your mother, your mother's mother, and so on. What withstands the tests of time? https://gardinl3.wixsite.com/luciagardiner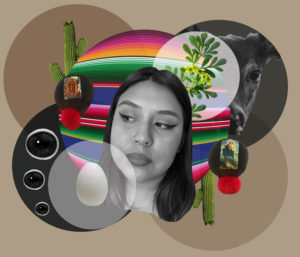 SHELLY CROOZ evokes dialogues about identity, culture, and gender through combining digital collage and printmaking in her show, NOPALANDIA (land of the nopales). Crooz's work exemplifies the importance of representation for people of color and of her Mexican roots.The title NOPALANDIA refers to the nopal cacti, which is culturally meaningful and a recurring subject in her artwork.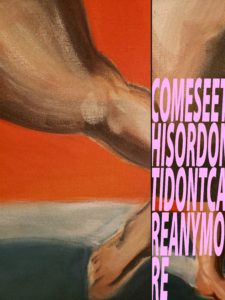 ADDISON COOPER explores a past relationship of both love and abuse in Come See This or Don't, I Don't Care Anymore, by exploring innocence and romance through the delicate construction of three sculptural elements paired with a triptych of crude expression. A sense of frustration drives the composition, while both anger and rejoice play a part in the creation of these works.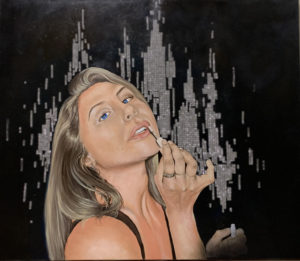 HALLE LUTTRELL produces three confrontational feminist artworks that comment on the intrusive nature of the male gaze in The Male Gaze Interruptsー. Her works speaks to the feminitst movement, the titles of which feature feminist replies cut off by a prolonged sound mark. By realistically depicting personal moments of the lives of these women paired with mixed media that is reminiscent of femininity, Luttrell's paintings exemplify how the male gaze is a constant interruption within the public and private lives of anyone who identifies as a woman.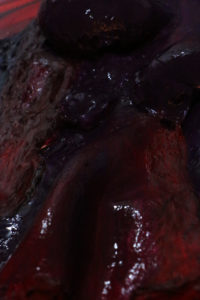 SARAH VALENTE relates the body to a vessel in Living Room. Fusing sculpture and painting, she creates a space that encourages reflection on the psychological and physical capacity of the body's ability to record, inviting us to evaluate these two clashing spheres of self.  Utilizing unconventional materials, such as slime and silicone rubber, she curates a visceral experience to place the audience inside this unstable dimension.