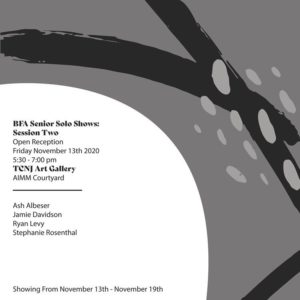 TCNJ ART GALLERY PRESENTS: BFA Senior Solo Shows: Session 2
Student Exhibitions by Seniors: Ash Albeser, Stephanie Rosenthal, Jamie Davidson, Ryan Levy
Art and Interactive Multimedia Building Courtyard
November 13 – November 20, 2020
Opening Reception November 13, 5:30 – 7pm
Session Two of the BFA Senior Solo exhibitions opens on Friday, November 13. The exhibitions are designed to be viewed outside from the AIMM Courtyard, and will be lit in the evenings for optimal viewing. 
ASH ALBESER continues to explore materials, objects, and techniques in order to create immersive sculptural installations. Albeser's use of manufactured materials in conjunction with natural objects creates tension between the medium and the aura. What is lost when the object is created by machine? What is gained from reuniting with one's natural instincts? Albeser creates a surreal realm from her own mind and fears, a safe space to heal from past traumas.
STEPHANIE ROSENTHAL investigates the delicate thoughts and recollections that define an individual in The Color of Memories through shifting colors and light. Her personal stories and perspectives of family, home, and self-image are used to represent the larger picture of navigating human experiences and key factors in shaping identity. In this installation, Rosenthal uses color as the means to visualize the passage of time's impact on memories as daylight transitions into artificial light. She asks viewers to contemplate how they picture their own recollections, and what colors they might give them.  
JAMIE DAVIDSON exhibits a collective of fashion-inspired images exploring feelings of isolation that have transpired as a result of the global pandemic in her series, Urban Escape. This series of images are set in abandoned locations to represent the loneliness caused by this separation from society. These stylized models are indicative of an escape from this reality into the world of fashion, where one can feel confident and free. Ultimately, this piece acts as a juxtaposition between the model and their surroundings, which emphasizes their wants and desires within isolation.
RYAN LEVY
The exhibition will be viewable from outside the building in the AIMM Courtyard. Visitors can park in Lot 5 and walk to the AIMM courtyard to view the exhibitions from outside. The exhibitions will be viewed through the windows of the galleries from outside the building. Visitors will not be permitted inside the galleries. Visitors including attendants of the Opening Reception will be required to follow COVID-19 safety protocols, including social distancing and wearing a mask at all times.