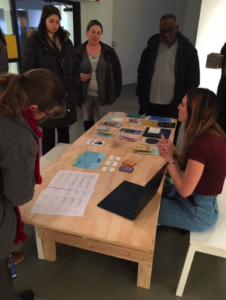 IInspired by the water theme of the Springs Eternal exhibition and the participating artists who explore environmental issues from various perspectives, TCNJ pre-service art educators enrolled in Curriculum in Art Education with Dr. Carolina Blatt-Gross created issue-based lesson plans for K-12 art classrooms.  These lessons are driven by "Big Ideas"– broad, meaningful concepts that cross disciplines and resonate with people of all ages. Using artmaking to explore big ideas enables teachers to help students make connections globally, locally and personally. This approach embeds new knowledge in significant contexts and facilitates transfer to other disciplines as well as application to real-world scenarios. As part of their lesson plans, these future art educators also partnered with graphic design students to generate instructional, developmentally-appropriate games that complement the content of the exhibition and support their learning objectives.
While designed specifically to complement the content of Springs Eternal exhibition, these plans can easily be adapted to address any number of environmental issues, suggesting ways in which the ideas of conservation, pollution, and our relationship to water could be incorporated into the classroom.  One-page summaries of the water-themed lessons are available using the following links. We invite educators to use these plans to integrate authentic, inquiry-driven art-making into their classes.
The use of these lesson plan summaries were also part of a larger collaboration with Dr. Belinda Haikes' Graphic Design students and Springs Eternal, becoming an integral part of their Game Night hosted in the Gallery alongside ReCreate Your Night activities.
Curriculum Cards
(K) "Recycled Sea Mobile" – Alyssa Stachura and Annika Mathinuss
(1-2) "Don't Be Blind to the Disruption of the Water Cycle!" – Gina Bianco and Madison Cascardo 
(3-4) "Pollution in Water and Us! How We Can Change the World through Small Actions, and Become Water Warriors" – Erica Gavzy and Victoria Orshel
(5-6) "Creature Conservation" – Alyssa Shoenfelt and Jenna Sokolik
(7-8) "Body to Body" – Olivia Egnatovich and Megan Scarborough 
(9-10) "Changing Tides" – Alanna Trainor and Ash Albeser 
(11-12) "Discoveries and Diatoms" – Meghan Feely and Giuseppina Di Meglio