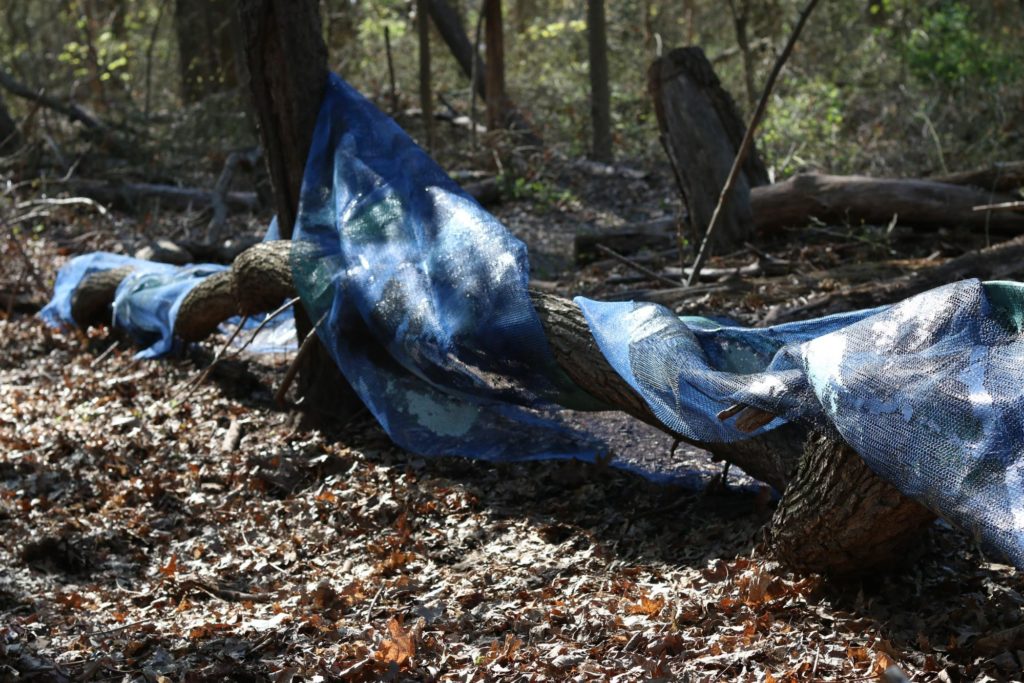 Artist's Statement: Artist Emma Walby has a strong fascination with sculptural abstracted forms in suspension. Stretching or spanning through space, Walby's structures are replications of movement found in nature. Produced with artificial man-made substances, dried acrylic paints and manipulated pigmented plastic fabrics capture the experience of flowing water frozen in time. The muted hues of water and vegetation are electrified in vibrancy to transform Walby's sculptures into artistic representations of organic life. 
Isabella Mancuso: You're clearly inspired by the natural world. Who/what are your other biggest influences?
Emma Walby: Besides exploring themes within environmental issues, I also have a passion for centering my artwork around societal issues. I love finding different aspects of humanity that I can make art about, however abstract or obvious those themes may be. One of my favorite contemporary artists is Cathy Wilkes. She is an Irish sculptor and painter who uses the figure to talk about themes of love, death, fear, and childhood. Her raw way of using found objects is something I admire. 
IM: How has your process of art-making changed since the campus has closed?
EW: A lot of my recent sculpture work is very large and requires long installations. Since campus has completely shut down I have had to clear my living room out and put down a tarp so I can continue my usual art making process which includes a good amount of experimentation. My sculptures are usually made through trial and error and it has been difficult to find the space to allow the artworks to reach their full potential. Installation has also been challenging because I live with another artist so all the walls in my house are brightly painted and covered in paintings. I can honestly say I do not own a single white wall. Instead, I have been relying on nature to present opportunities for interesting backgrounds that help support my artistic concepts.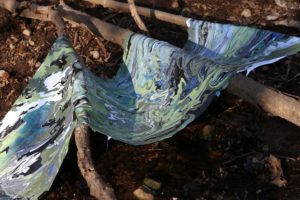 IM: Do you still have access to the space and materials that you need, or have you had to adapt?
EW: My biggest adaptation was the fact that I was not able to use one of my sculptures because it is currently locked in the senior studio. The campus has locked all the buildings for our safety. I completely understand this but I was not impressed with the communication skills of the art department but again I am understanding of the situation. Mentally it has been a rollercoaster ride of emotions, it took me a week of installing over and over again to finally find the right location for my sculptures and it was exhausting. Thankfully, everything worked out in the end.
IM: How has your art evolved, if at all, since you started as a freshman at TCNJ?
EW: When I was a freshman I wanted to be an art teacher but along the way I discovered that I was only passionate about art. I switched from Art Education to Fine Arts at the end of my sophomore year. I originally came to art school because I loved ceramics and photography and now I work almost completely with sculptures. I always thought art had to be aesthetically pleasing when I was younger, but with time I learned that the ugly and uncanny things of the world were much more interesting to me.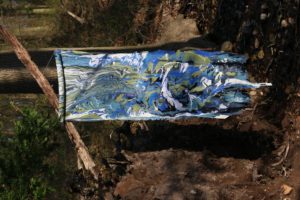 IM: What is your biggest accomplishment from the past four years?
EW: My biggest accomplishment is not a tangible piece of artwork but rather a personal growth that I have experienced. My college experience was not at all what I was expecting and I had to adapt and realize that life is not always a bed of roses. My mental health was affecting my ability to make connections with people and made school very difficult at times. My biggest accomplishment will be that I never gave up. No matter how tired, unhappy, or alone I was, I kept working and my BFA will be proof of that. 
IM: Do you have any plans post-graduation?
EW: After graduation I am moving to the Netherlands with my mother and sister. After I settle into my new home, I plan to go abroad and work for a non-profit providing disaster relief/other volunteer services. I feel that I owe it to myself and my artwork to finally be able to devote all my attention to something I have been wanting to do since I was a child. I am hoping that this will further my passion for social justice and I would be interested in making art in collaboration with the people I meet.