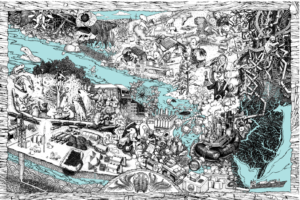 Image: Water Ways by Meg Lemieur and Bri Barton
Sound Compositions – Student Work in Springs Eternal
In January and February 2019, TCNJ students took part in a novel IMM 'mini-course' with TCNJ faculty to create sound compositions for the artworks in the Springs Eternal exhibit. These audio pieces were constructed in Logic Pro X software, using both digital audio editing and music composition techniques. Students designed their sound pieces to accompany specific artworks in this Art Gallery installation, deriving inspiration from the visual themes of water and change. This creative learning activity was supported in collaboration with the TCNJ Art Gallery, the Department of Interactive Multimedia, the Department of Music, and the TCNJ Institute for Social Justice in the Arts.
Throughout the exhibition, you will see QR codes. These link to mobile-friendly webpages with embedded audio players. Please take a few minutes to stand in front of the visual artworks while listening to the portable audio display that has been designed to accompany it. You are most welcome to listen to the sound on headphones or earbuds as you traverse through the Gallery space. Please send feedback directly to the composer via the online form provided.
Many thanks to Teresa Nakra, Margaret Pezalla-Granlund, Colleen Sears, and Eric Laprade for their support of this work!
Just Seeds sound composition by Benjamin Spizuco
TCNJ class of 2020, Interactive Multimedia and Photography & Video double major
https://imm.tcnj.edu/justseeds/
Club Dismuncion sound composition by Terence Odonkor
TCNJ class of 2022, Music B.A. and Marketing double major
https://imm.tcnj.edu/clubdismuncion/
La Mer sound composition by Rashid Carter
TCNJ class of 2020, Interactive Multimedia major
Water Bar sound composition by Shrish Jawadiwar
TCNJ class of 2021, Music B.A. and Political Science double major
https://imm.tcnj.edu/waterbar1/
Water Bar sound composition by Danielle Wietrzychowski
TCNJ class of 2021, Interactive Multimedia major
https://imm.tcnj.edu/waterbar2/
Water Ways sound composition by Kenneth Lepping
TCNJ class of 2020, Interactive Multimedia major
https://imm.tcnj.edu/waterways1/
Water Ways sound composition by Ren MacLean
TCNJ class of 2022, Fine Arts and Art History double major
https://imm.tcnj.edu/waterways2/
Water Ambience sound composition by Kenneth Lepping
TCNJ class of 2020, Interactive Multimedia major