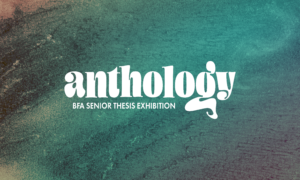 Anthology
BFA Fine Art Senior Exhibition
April 26 – May 20, 2022
Opening Reception: Sunday May 1, 2022
12:00 PM – 3:00 PM
Our Anthology is a collective body of work representing the different stories 14 artists tell. Through a variety of mediums such as painting, sculpture, photography, illustration, printmaking, installation and projection, textiles, and mixed media works, the artists express an anthology all their own. In this exhibition, they present their artistic individuality while also coexisting as a singular, shared narrative.
Anthology exhibit works from…
Mia Decker-Steckhahn – Caitlin Hackett – CJ Han – John Linaris – Kailee Lockwood – Carly McKenzie – Joe Om – Sarah Quiles – Ren Rullo – Shana Scavelli – Lauren Schweighardt – Andrew Serge – Heather Simpson – Luke Sulsenti