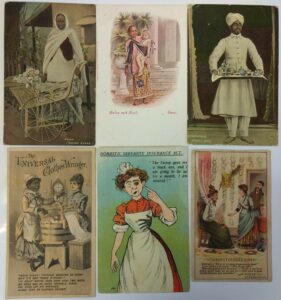 Visual Culture of Domestic Labor: Trade Cards and Postcards from 1870s to 1930s
AIMM Gallery 118
May 2nd – May 6th
3:00 PM – 5:00 PM
Student guided tours available.
This exhibition explores how race and gender shaped the visual culture of domestic labor across the world in the age of New Imperialism, Jim Crow segregation, and Asian exclusion. A visual archive of trade cards and postcards depicting the Indian "ayah", African American "mammy", Chinese "houseboy" and "laundryman", the Irish "Bridget", and other stereotyped domestic workers will be historically contextualized to understand how racist and sexist prejudices were normalized across empires. The exhibition hopes to inspire critical conversations
on anti-racism and social justice.
For more information, please contact Dr. Satyasikha Chakraborty (TCNJ History Department) chakrabs@tcnj.edu.