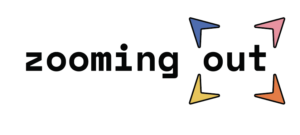 Zooming Out
Saturday, April 2nd – April 10th, 2022
Opening Reception: April 2, 6:00 – 8:00 pm
TCNJ's Graphic Design program is proud to announce ZOOMING OUT. This exhibition includes design work from 14 undergraduate students completing their BFA degree in Spring of 2022.
The exhibition includes work from: Jordana Bernard – Danielle Britton – Katherine Cocca – Allie Del Duca – Megan Dunn – Hadassah Green – Allison Kemp – Alexandra Long – Christopher Marcantonio – Steven Quinto – Tyler Rodriguez – Tyler Torre – Kaitlyn Walters – Maria Yue
Zooming Out encompasses who the senior graphic design class is. These artists have had different experiences and paths to becoming designers, but have ended up at the same destination. TCNJ brought them together and gave then the inspiration and encouragement to do their best work. This show demonstrates how the senior class works as a team while still allowing them to showcase their own style and impressive range of skills in areas like UI/UX, branding, motion graphics, typography, and more.