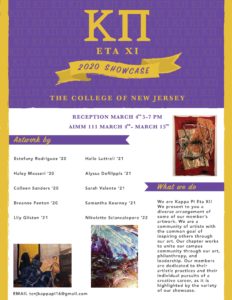 Kappa Pi Showcase
March 4th-March 15th
AIMM 111
Kappa Pi Eta Xi will presenting their new exhibition on March 4th! Kappa Pi is a community of artists with the common goal of inspiring others through our art. This chapter works to unite our campus community through their art, philanthropy, and leadership. Members are dedicated to their artistic practices and their individual pursuits of a creative career, as it is highlighted by the variety of our showcase. They will present to you a diverse arrangement of some of the member's artwork using a variety of mediums such as photography, painting, and ready made objects.
Make sure you come out to see the amazing work Kappa Pi has created!