Making Innovation: Artists, Engineers, and the Sarnoff Collection offered an interdisciplinary lens of invention, innovation, and creativity. The exhibition combined the work of contemporary artists Imin Yeh, Sandra Erbacher, and the late Pati Hill, along with artifacts from the Sarnoff Collection itself. The David Sarnoff Collection at the College is a small but significant museum of artifacts that document the history of communication and electronics in the 20th century.
On Wednesday, February 7, 2018, before the opening of the exhibition itself, artist-in-residence with the David Sarnoff Collection Imin Yeh and Sarnoff curator Florencia Pierri previewed the combination of archival history and technological innovation that helped craft the exhibition. Pierri, a Doctoral candidate of History at Princeton University, provided an overview of the Radio Corporation of America (RCA)'s technological innovations, whose roots are still embedded within our modern technology.
RCA spearheaded many key technological revolutions of the 20th century, working with early radio, black and white and color television, video discs, and broadcasting, to name some of the inventions we now find so familiar. The Sarnoff Collection boasts a range of artifacts that further document the history of 20th century American consumer goods and technology.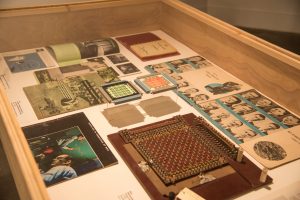 In her trajectory of work, Imin Yeh's impulse is to expose the hidden implements that make everyday life easier. When she was an artist-in-residence in California, she studied on a boat dock without internet (Yeh joked that the three weeks of internetless work equalled six months time with the distraction of the internet). Despite its lack of worldly connection, the boat still had outlets and conduits of essential electrical power and Yeh became fascinated with the persistent mark of manufacturing.
Yeh's impulse led her to notice the ubiquitous marks of everyday life that, being so ingrained within our very foundations, are often overlooked. "I'm looking at better work than mine and there's an outlet," Yeh laughed. Yeh catalogued instances of aesthetic masking, of galleries and industries trying to cover up implements of everyday technology, like painting power conduits to match the wall. "It's a lot of work to hide things we need," Yeh said and so she seeks to expose what is hidden, to explore how space is used and remade.
Yeh turned to a paper and camouflage aesthetic, designing radiators, Iphone chargers, screws, and bolts out of paper, using her printmaking tradition to create more elaborate and complicated sculptures. For one installation, Yeh made a network of 250 paper extension cords that plugged into each other. "In every show, people tried to plug their Iphones into my work," Yeh said. "We need the juice, we need the electricity."
Of the appeal she has for these everyday utility objects, Yeh explained, "Formally, I think they're beautiful." Yeh works in the medium of imagination and paper, so that she can create and realize whatever impulse drives her. Paper is an especially important medium to Yeh because of its association with official reality in paperwork and certificates, but also in its artificial reality of being a handmade fabrication. Yeh's work is functionally useless, but inspirational in being copies of things that are useful.
This translation of utility is what deeply inspired Yeh to work with the archives of the Sarnoff Collection. Yeh, for her project, spent a day and half — roughly 10 hours in total — touring the Collection with Pierri. Yeh was struck by the computer games of Joseph Weisbecker and created paper facsimiles of the games. Weisbecker sought to teach computer-based principles through games and created mini versions of the games for distribution to cereal companies as prizes at the bottom of the box. The idea never sold. Instead, the Sarnoff now has many of those games on display. Through Yeh's interactive reproduction, the games can now be fully played and enjoyed. "From an archival point of view," Pierri explained, "it's nice to see the games reproduced, used as they were meant to be."
The games, as well as every other creation of Yeh's, was made from scratch through mostly screen printing, a meticulous and labor-intensive process. The replication of objects allows Yeh to discover how everything was made. Yeh is interested in mechanical technology that can be opened, seen, and touched, which current digital technology cannot match. Although most of her work recreates technology that may soon become obsolete, Yeh's very production of the work defeats such transience by preserving it through art. In this exhibition, Yeh's proudest creation was the fake paper foam for the Weisbecker replicas.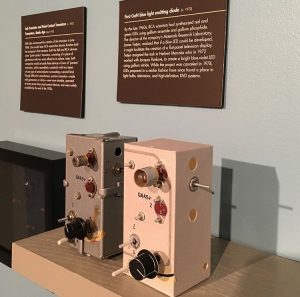 However, Yeh's biggest obsession was the 1972 handmade prototype of the first blue LED light that Pierri had incidentally mentioned offhand. Trying to think what an artist would like, Pierri focused more on showing Yeh the Collection's games and paperworks. The LED light is often overlooked because it is not a television or a giant electron microscope and was perfected later on, but Yeh's excitement for the object reclaimed its significance. And so, Yeh created the world's first facsimile of the world's first LED.
"Your work here is done," Pierri told Yeh on the paper reproductions of the blue LED light box being indiscernible from the real thing. 
Originally just desiring to make the paper copy light up steadily, Yeh later thought that that was too boring and she wanted something more interactive. On display at the exhibit is now 56 hand-crafted LED boxes that blink in Morse Code (of which David Sarnoff was once an early operator) a quote from Sarnoff himself: "Competition brings out the best in products and the worst in people."
On display in the Sarnoff Collection is the real box, made by Herb Maruska and the paper reproduction. "They're glorious – two lights that once worked once," Yeh gushes of the pair.
Text by Shannon Kelly