"I like to create my exhibitions in direct response to the space I'm given," Sandra Erbacher says about her work process and artistic aims.
On Wednesday, February 21, 2018 visiting artist Sandra Erbacher spoke about the trajectory of her work, where she draws her inspirations, and how she engages with the space around her to make the best impact with her exhibition. Erbacher is a German artist living and working in New Jersey. She earned her BFA from Camberwell College of Art in London and her MFA from the University of Wisconsin-Madison and she has exhibited nationally and internationally.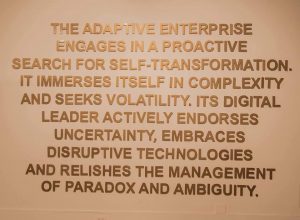 Erbacher's contextual foundation for the critical lens of her exhibitions stems from her degrees in sociology and cultural studies. Looking at the intersection between power, hierarchies, and ideologies, Erbacher asks her viewers to reconsider the implements of bureaucratic control that exists within institutional spaces. 
Erbacher walked through one of her early exhibitions that was part of her MFA, exploring the evolution of her work as she has matured as an artist and visionary. In making You Know She's a Little Bit Dangerous, 2014, Erbacher wanted to create a new body of work specific to the Chazen Museum that would house it. Rather than force something old into a new space, Erbacher roamed the Chazen Museum to create a contemporary, in-the-moment institutional critique.
"I wanted to bring the institutional support structure of the museum onto center stage and play with that in a joking way," Erbacher explained. The minimalist approach to engaging with the environment around her emphasizes the subversion of the space she operates within.
Found office and institutional objects are recontextualized in Erbacher's displays to speak on power imbalances. Erbacher furthered, "They symbolize and recreate hierarchies of offices by making the space feel more efficient. They keep people at work and in their place."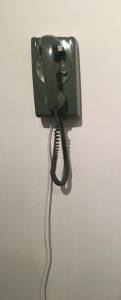 Hum, a phone mount through which Erbacher reads onomatopoeic words in an increasingly monotonous tone, establishes the subversion of language that carries throughout Erbacher's work. The phone demonstrates language's ability to convey, construct, and dismantle ideologies. In abstracting familiar and ubiquitous scenes of the office, Erbacher revitalizes the mundanity of these images. Erbacher imagines how objects would refuse to cooperate if given their own autonomy, leading to the creation of blanked out keyboard painting, personifying the object's refusal to communicate coherently. 
After perusing archived office furniture catalogues for inspiration, Erbacher noted the continuous sexist imagery of advertisements and supplies: "It was stunning, but not in a good way," she lamented. The Lady1200 was a calculator designed specifically for female use and in recreating a blown-up picture of it, Erbacher denaturalized the essentialism of stereotypes.
The most striking find of these archives was a desk in the shape of a swastika, whose manufacturer declared provided the most efficient means of employee communication. That image, displayed on swatches of beige office carpeting, became the centerpiece of Erbacher's latest exhibition That the World Should Know No Men but These, 2017, in which she created a lobby of a fictional company.
Erbacher's research has led her to sources tracing IBM's involvement in providing Nazi officials with computer precursors that allowed efficient cataloguing of the victims in the concentration camps. Her upcoming exhibition, themed IBM and the Holocaust, explores the connection between extreme efficiency and fascist bureaucracy. She aims to juxtapose IBM personnel with mid-level Nazi officials in graphite drawings that considers what she calls the face of bureaucracy. "It's the homogenous look of authority: white males, business attire," she elaborated.
Through her work, Erbacher explores what she called "the modernist effort of rationalization and creating efficient fields of work." Erbacher is fascinated with archives and the politics of archiving, as their operation translates to the ownership and writing of history. Through her work, her own cataloguing, recontextualizing, and examining, Erbacher seeks to create her own archive to interrupt boundaries, allowing viewers access to their own reinterpretations of artifacts.
Beyond the College
Erbacher recently explored the concept of 'dark archives' in looking at the link between fascism, as displayed through IBM's involvement with the Holocaust, and modern bureaucracies in two companion exhibitions in Portland, Maine: Geometry of Oppression at SPACE and TIIC at Border Patrol. Here you can read a summary on Erbacher's exhibitions.
Text by Shannon Kelly