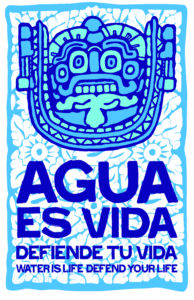 Justseeds Artists' Cooperative
justseeds.org/
Each of 12 original Risograph prints in the Wellspring explores our contemporary relationship to water. The artists whose work is included in the portfolio live in cities across the United States and in Mexico City. Some of the issues addressed in the images may be inspired by concerns local to the artists, some by the struggles over water we've all read about in the news. Justseeds stresses, however, that the images do not refer to any specific crisis, but rather reflect widespread concerns over the safety and access to water that are common to many communities worldwide.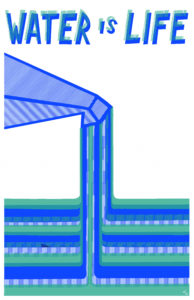 Central to Justseeds' mission is to make politically engaged graphics that are as accessible and widely distributed as possible: their portfolios are available for loan to libraries, schools, and galleries, and graphics can be downloaded from their website and used on flyers, tshirts, and posters, anywhere the images can be use to incite, empower, invigorate, and organize. By working collectively and sharing widely, Justseeds hopes to support dialogue around the essential issue of water:
Our hope is that these images will generalize to become a useful buoy in a sea of bad news. We know that this offering is just a drop. Much more will need to be expressed as we acclimate to our role protecting our precious water sources, embodying the hydrophilic, water-loving qualities that created us.
About Justseeds Artists' Cooperative
With members from the U.S., Canada, and Mexico, JustSeeds is a is a decentralized network of 30 artists committed to social, environmental, and political engagement. Working from a shared belief in the transformative power of personal expression in concert with collective action, Justseeds members collectively produce print portfolios, activist graphics, gallery installations, and wheatpaste posters.