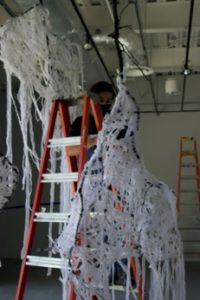 Lily Gilston | Interviewed by Giuseppina Di Meglio
I'm Lily Gilston. I work in extended media fiber art and installation. I have explored many different ways to combine multimedia over the last four years to create immersive environments for the viewer to explore. I have a very hands-on approach, beginning first with an exploration of materials. I have a tendency to gravitate towards materials and processes that are tactile and require problem-solving by hand – weaving, stitching, papermaking, sewing, and felting. I gravitate towards materials that would otherwise be discarded, like sticks and branches left to rot on the side of the road.
I'm able to transform these materials by bringing them into the white cube; in doing so, the viewer is confronted with the notion of man-made boundaries that further the exploitation of natural resources. I recontextualize and redefine the branches as I create form from what already exists, and what is often disregarded. Most recently, I've incorporated audio into my work in order to create tension between psychological spaces and physical reality, in a holistic multimedia installation. It is my aim to encourage conversations about how we interact with and imbue meaning onto our environment.
My work with handmade paper is explorative and more about learning the tendencies of the material. I am exploring ways to use paper's innate qualities to express meaning, in combination with other fiber art techniques. For my thesis work, I created a (roughly) six-foot-long piece of handmade paper. From there, I created forms out of needle-felted Merino wool. The piece is a part of an ongoing study of handmade paper and needle-felting, and I intend to continue this practice after graduation.
After graduation, I hope to continue to sustain a creative practice. For the last several months, I've learned about handmade paper, and it is a process I'd like to continue to learn and expand into other media, including book arts and drawing. This summer, I will be working at The Center for Emerging Visual Artists, an art non-profit located in Philadelphia. Interning for their organization this spring has been an incredibly rewarding experience and I am grateful for the opportunity to continue working with them. I hope to learn more about operating an art non-profit, as it is one of my future, long-term goals to start my own to provide equipment and studio/gallery space resources for artists. I will revisit the idea of getting my Master's in a year or two. Right now, I am focused on gaining as much work experience as possible.