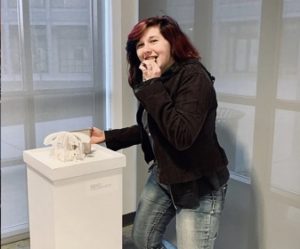 Samantha Leigh Kearney | Interviewed by Giuseppina Di Meglio
My name is Samantha Leigh Kearney. I will be graduating from TCNJ this May with a bachelor's of fine arts. Much of my work relates around this concept of "where I've been." It is something I started two or three years ago after finding that the common thread in most of my work was me. I look back at my experiences as well as the people in my life and those who I did not have. I look to the things I have done and the things I want to do and create work that is reflective of these things. 
I have been working a lot with paper, expanding its ability and pushing its limits as a material. A lot of my work is done primarily by hand, handled with care and always holds a piece of me. For the senior exhibition, I created a series of two Coptic bound books whose pages are tunnel books of the kitchens of the houses I have lived in. The books are a way to stash these cherished places – as life happens in the kitchen – but also act as a reminder to move forward. They address the fear and intrigue that come with domesticity. They address my fears of ending up back where I started.
After graduation, I am looking forward to the ability to dictate my time and devoting more of it to my own projects. I often have ideas for things I want to create and say but cannot always execute them. I am planning on continuing my work with ThriftPrints, which is my small business that repurposes thrifted clothing with new designs to emphasize a green type of individuality. I do not know where I will end up, I just want to be able to do the things I love to do and experience as much as I can as an artist and beyond.