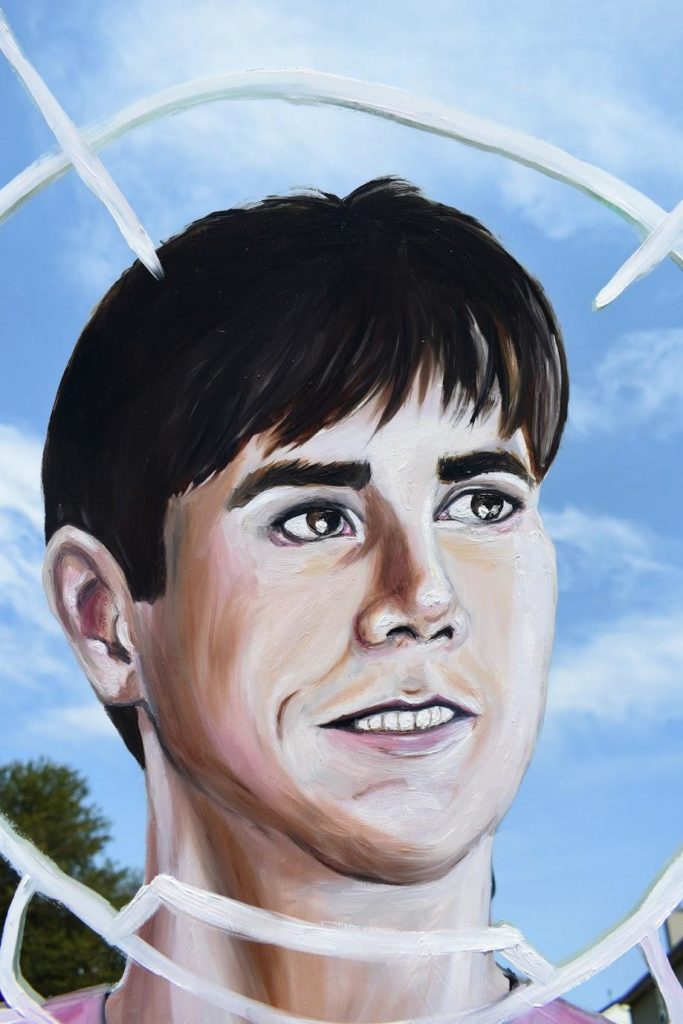 Artist Statement:
Zoe Adams uses found objects combined with her love for pop culture to create these large scale paintings depicting portraits from music, television & movies. The sculptural nature of each painting breaks the mold of a rectangular canvas and brings each character into real life. By using recycled materials, it relates the fictitious imagery to items we see every day.
Lily Gilston: First, tell me a little about your work. How would you describe it?
Zoe Adams:  My work is based on pop culture that I have consumed throughout my life. Movies & television are something that is a big part of my upbringing, so incorporating it in my artwork is important to the narrative I am trying to convey. I strive to bring fictional characters into real-life through objects we see every day.
LG:  When did you decide to be an art major? How did you decide you wanted to be an artist?
ZA:  I decided I wanted to be an art major at the beginning of high school. I went to a trade high school where I learned advertising art & graphic design, but I found myself loving traditional art rather than computer art. I love working with painting & photography, so I knew that would be something I could see myself doing in the future.
LG:  How do you get into your "zone," your creative headspace?
ZA:  When it comes to getting in the "zone", I am most active while watching movies. Not only is it the subject matter in my pieces, but it also helps me keep track of time & inspire me even more. It assists me in understanding the characters more than what I remember them as. I usually go to thrift stores to find objects that will make me think of certain characters or movies to spark inspiration for a piece.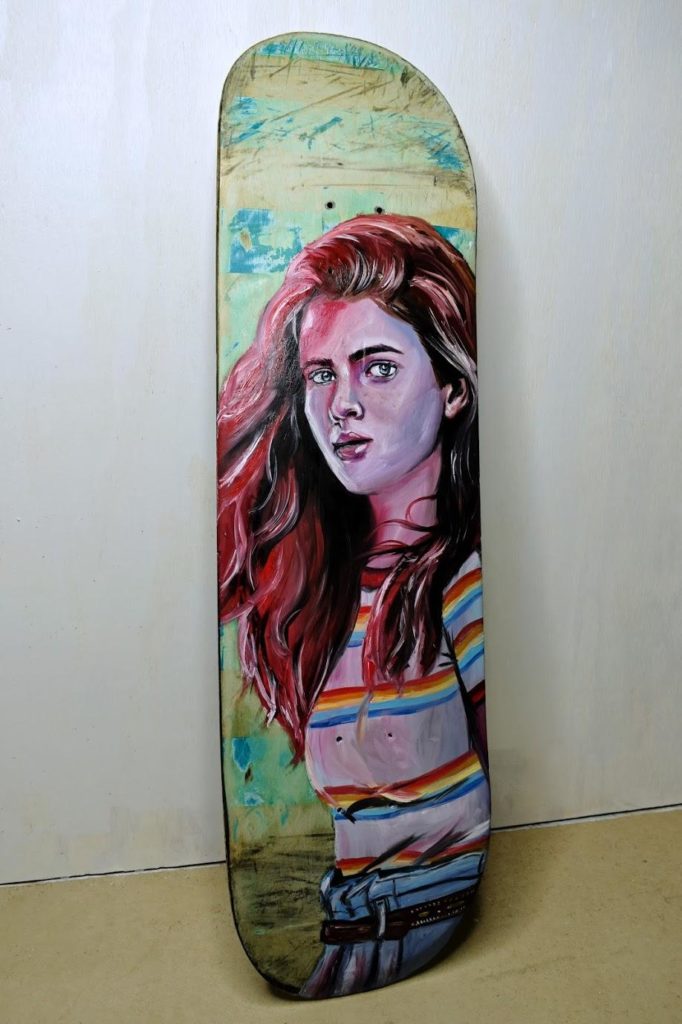 LG:  What is your current studio set-up/ working process at home? Have you adapted your working process based on current conditions?
ZA: I actually moved at the very beginning of the quarantine, so I am lucky enough to have a new studio space in my basement. With painting these larger pieces, it becomes difficult finding spaces to work on them, but I managed to make it work. It's also harder to gather supplies & finding items to paint on due to stores being closed, but not impossible since I have a lot saved from previous trips to thrift stores.
LG:  I think it's incredible how you're able to capture the essence of each character in your paintings. How important is it for your viewer to recognize your reference to popular culture?
ZA: It isn't necessarily important for viewers to recognize the references right away, but it's always fun when they do. I think it is more important to understand the significance each character has to myself through the amount of time & detail I put into each piece. There is a reason I choose each of the characters & references that I do, and it is to show the relationship that I personally have with specific pieces of pop culture.
LG:  It sounds like finding the right support for a painting is an important part of your process. One of the most memorable pieces, for me, from your solo show Rewind in the Fall was your painting on a bowler hat! What are your thoughts on combining traditional "high art" with "low art"?
ZA: I think it is interesting combining items that I find in thrift stores, and sometimes even the trash, and giving it a new life as a canvas for an oil painting. I love messing with conventional methods of painting & making it more palatable for audiences that aren't typically fine art consumers. It helps broaden the audience by using items that are recognizable, while also humbling the idea of oil paintings.
LG:  Your paintings include a range of characters and references to a variety of different pop-culture eras. If you could travel back in time, which era would you choose and why? Is there a particular time in art history that inspires you?
ZA: I would mostly want to experience the 80s for myself. A lot of the movies & references I pull from are typically from the 80s because I was raised on movies like Pretty in Pink and Back to the Future. Some of the artists that were active during that time that inspire me are Jean Michel-Basquiat, Cindy Sherman & Andy Warhol. My work usually gets compared to Andy Warhol's the most because of the way I use pop culture and how I reappropriate imagery to give it a new context.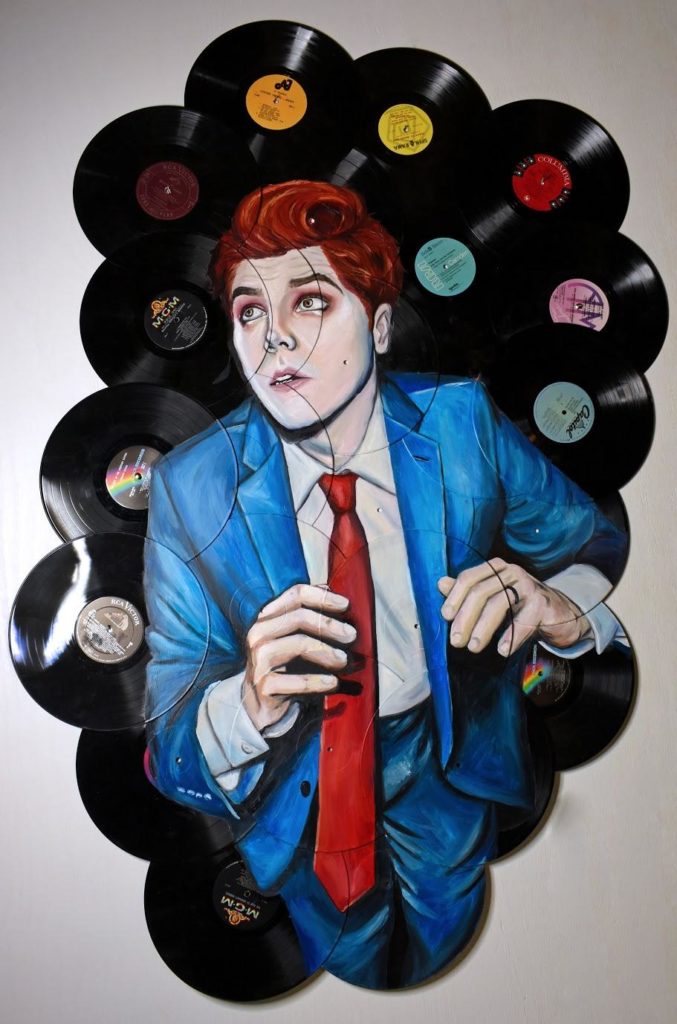 LG:  Would you say that your background in commercial graphic design has informed the direction of your work? What are your professional goals after graduation?
ZA: I would say that my knowledge of graphic design has definitely impacted my practice & how I work with imagery for my pieces. It's also useful when it comes to my small business and creating packaging as well as branding for myself. As for professional goals, I look forward to continuing my practice in painting. I have found a close group of artists who create similar pop culture-based art through the South Street Art Mart in Philadelphia, which has helped me grow an audience for my artwork and get my name out there as an artist.
LG:  And finally, in one word, how would you describe the core of your practice?
ZA: Nostalgia