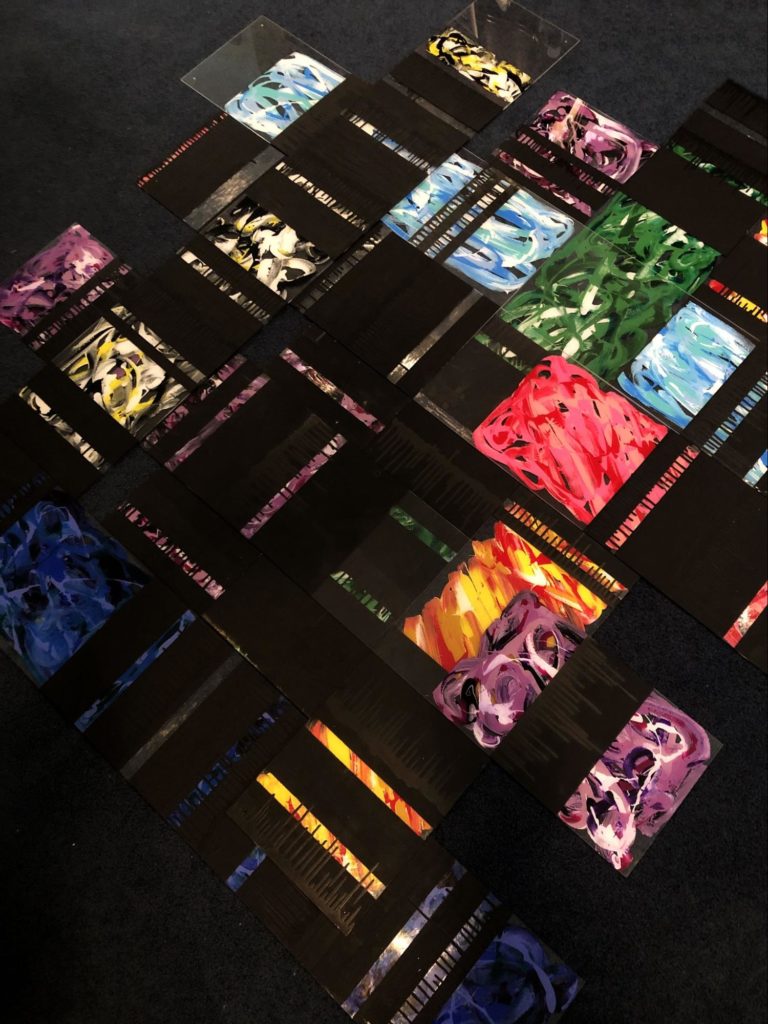 Artist's Statement: A black mixture of tempera paint and dish soap encloses the transparency of the Plexiglas with areas that have been scratched away. Pouring down the smooth, slick surface of Plexiglas, energy filters through the transparent lenses to create a juxtaposition between order and chaos.
Isabella Mancuso: How has your work evolved, if at all, during your time at TCNJ?
Colleen Sanders: In making art, I always created things on a smaller scale and never thought about making large pieces, until professors advised me to think in a larger way. At that point, I started to see some of my art pieces as models that I could make larger. My first semester of senior year, last semester, I created a large sculpture in one of the installation rooms that covered a whole wall and spilled onto the other walls as well as the floor. That was the largest sculpture I've ever made and it made me enjoy large art pieces. I also worked pretty large for this semester in my Fine Art Thesis class. The two sculptures that are in the images are both six feet tall and on the larger side
IM: What accomplishment are you most proud of from the last four years?
CS:  I think the accomplishment that I'm most proud of in the last four years would be that I always finished a project. Even if I wasn't happy with a piece that I was working on, I pushed through to finish it when it was due. I also think that the large, installation room size sculpture was a big accomplishment for me because, like I said, I've never made anything that large and I also completed it in the amount of time that was given to me.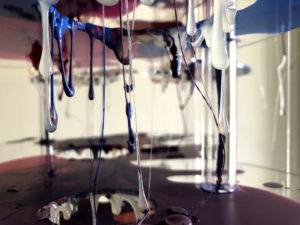 IM: Your work looks like it requires a lot of time and space to create, as well as specialized materials. How has your art making process changed since the campus has closed? Are you having trouble accessing supplies? Do you have the space you need to make something of this scale, or have you changed the medium of your work?  
CS: My art process has changed due to not having my own personal space in the senior studio that all the Fine Art seniors shared. I had to make sure I took all the supplies I needed from the senior studio before coming home. I ended up turning my family room into a temporary studio and I'm thankful that my parents allowed me to do so. I also took a lot of time in the art building before coming home, using the Makerspace laser cutter and equipment in the sculpture studio that I knew I wasn't going to have available at home. I haven't had too much trouble accessing supplies due to having almost everything I needed in the studio. 
Space has been somewhat of an issue for me. I decided to make large sculptures for this semester and was very excited knowing that I was going to have a clean, white gallery space to install them. But at home, I don't have large areas of white space where I can install my sculptures the way I would like. It led me to bringing my sculptures outside and even that wasn't satisfactory. I'm currently trying to reconstruct my Plexiglas panel sculpture into something new due to not being satisfied with the environments that are available to me right now. The medium of my work hasn't changed from the beginning because as I said before, I had all the materials, it was just the act of building and constructing it into my final idea.

IM: What are your plans post-graduation?
CS: I currently work at Grounds For Sculpture in Hamilton, and also have an internship at the New Jersey State Museum in Trenton. Of course, due to coronavirus I haven't been able to go to those places. But, both being in the art museum field, lends me to be very interested in how they all work. At the New Jersey State Museum, I assisted the Fine Art Registrar, and I really enjoyed what I was doing there, so I hope that I can get a job in the art museum field, maybe as a registrar or in a different position.
IM: Is there anyone you'd like to thank for helping you reach this point as an artist?
CS: I can start with thanking my family because they've always been supportive of helping me when I needed it. My professors have pushed me through some hard times and I've made really good connections with some of them, including professors Elizabeth Mackie, Theresa Pfarr, and Mark Baumgartner. Also my fellow students who have given me feedback through all the critiques I've had in the past four years.