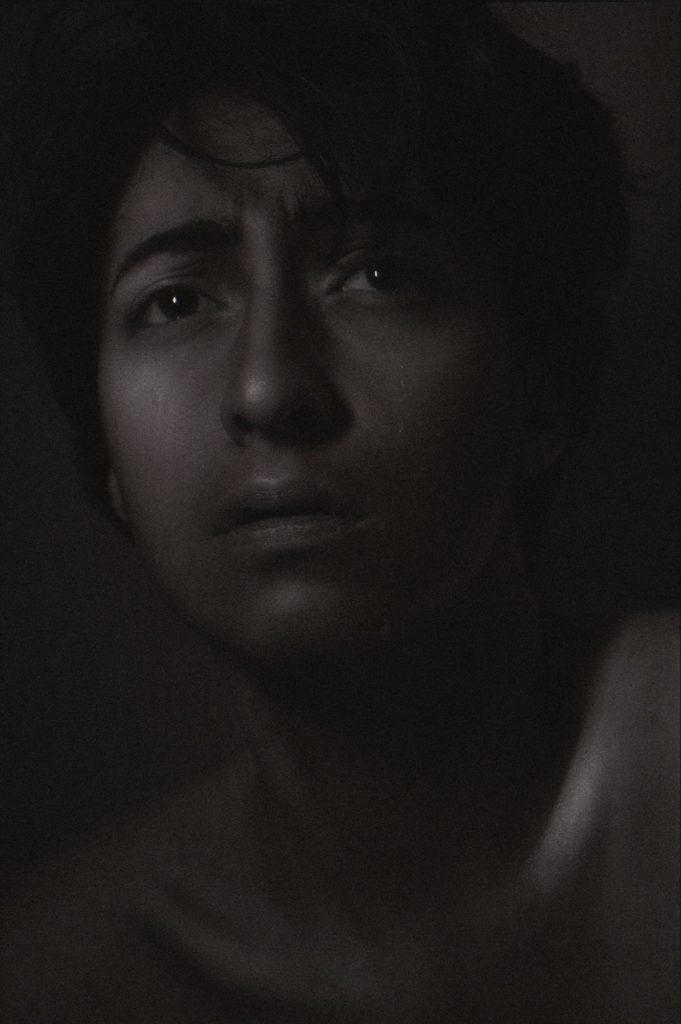 Bio: Stephanie (Stevie) Makrancy captures abstract emotions and personifies them through self-portraiture. She creates characters that embody themes such as nostalgia and romance, and draws inspiration from Pre-Raphaelite paintings and from photographers like Julia Margaret Cameron to create a dreamy and surreal image. Stephanie uses her face and body to perform a narration of emotions, capturing both strength and vulnerability within the presence and absence of light, as well as within the temperature and texture of her photographs. Whether she presents herself in a feminine or masculine appearance, she communicates sentiment and depth juxtaposed with whimsy and beauty.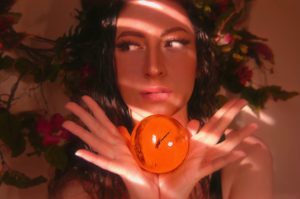 Shayla Nolan: So can you tell me a little about your work? How would you describe it?
Stevie Makrancy: 'm very inspired by nature and things of beauty. Some words I'd use to describe my art are whimsical, melancholy, romantic, and otherworldly. I like creating portraits and capturing an expression or feeling, whether it's in a painting, drawing, or photograph. I think that's what I base all of my work around; feelings and emotion, and capturing them in a personified and beautiful way. I think communicating and describing how one feels is one of the greatest struggles everyone deals with. But when we do feel, whether it's nostalgia, romance, sadness, or happiness, they are powerful things, and my goal is to capture that in my work."
SN: Thats awesome, thank you! So when did you decide to be an art major, and when did you decide you wanted to be an artist?
SM: I have always loved creating and would draw constantly as a child. I had taken a year off after I graduated highschool to really think about what I wanted to pursue in college. I focused on my interests in art and found that creating was what brought me happiness. I began practicing drawing, painting, and photography, and worked on building my portfolio. That's when I knew the career path of an artist was what I wanted. I have Dyslexia, and I have always struggled with expressing myself verbally, but creating art became an easy way of expressing myself through pictures, drawings and paintings. I was able to figure out my thoughts and feelings through my art.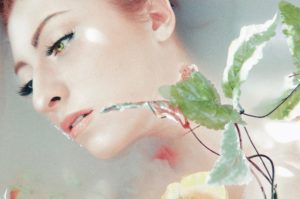 SN: So then how do you get into your "zone," or your creative headspace? I know that it can be tough to get in the right frame of mind to start and create.
SM:  Music always helps me get into a creative headspace. When I take pictures, I immediately turn on music because it helps me perform in front of the camera. Poses and expressions come out with different lyrics and beats, which is fun to see in post-production, and it also helps me relax. The process of setting up a photoshoot also gets me in the creative headspace. I get excited and begin thinking of all the ways I can use lights and props for the photographs. Doing my makeup is also another element that gets me in the zone. Taking time to transform myself and create a character is so rewarding and fun, and when I see the  finished result of the character in the mirror, it gets me focused and ready to create.
SN: What artists/art historical movements inspire you?
SM:  The Impressionist movement has always been a great love of mine. I'm drawn to the colors and the movement of paint, and the way life is captured in delicate and provoking ways. Each Impressionist artist has their own way of seeing the world around them, and in their paintings, you get to see life through their eyes. There is exaggeration in color, which I find enchanting. Color is so important in art. It defines a mood and emotion and hints to us how the artist felt while painting. The movement reflects beauty, light, and love, which are elements that capture me completely. Van Gogh is one of my biggest inspirations. His life and work is playful and profound, and holds no emotion back. I used to re-create his paintings when I was little because I was so fascinated with how he used color. Now as a professional artist, I also look at his life, his own influences, and how he also created to express his emotions.
SN: So in a nutshell, what does self-expression mean to you?
SM:  It means to make your feelings known and to be unapologetic about it. I think there is so much fear centered around letting people know who we truly are, and we shouldn't get caught up in what others think. It's a beautiful thing to know yourself, and to discover yourself through art that you create, for it's a journey that will go on for a lifetime, and I find that exciting. I'm excited to grow and change and see all the different ways that I can express myself.
SN: Okay. Finally, how do you find inspiration?
SM:  I find it everywhere I can. Nature, movies, conversations, literature, recipes, anything. It's surprising where ideas come from sometimes. Most of the time, it's the things that you never thought would be meaningful or inspiring that turn out to be the things that lead you to amazing concepts and projects. I try not to rule anything out when I'm looking for inspiration.