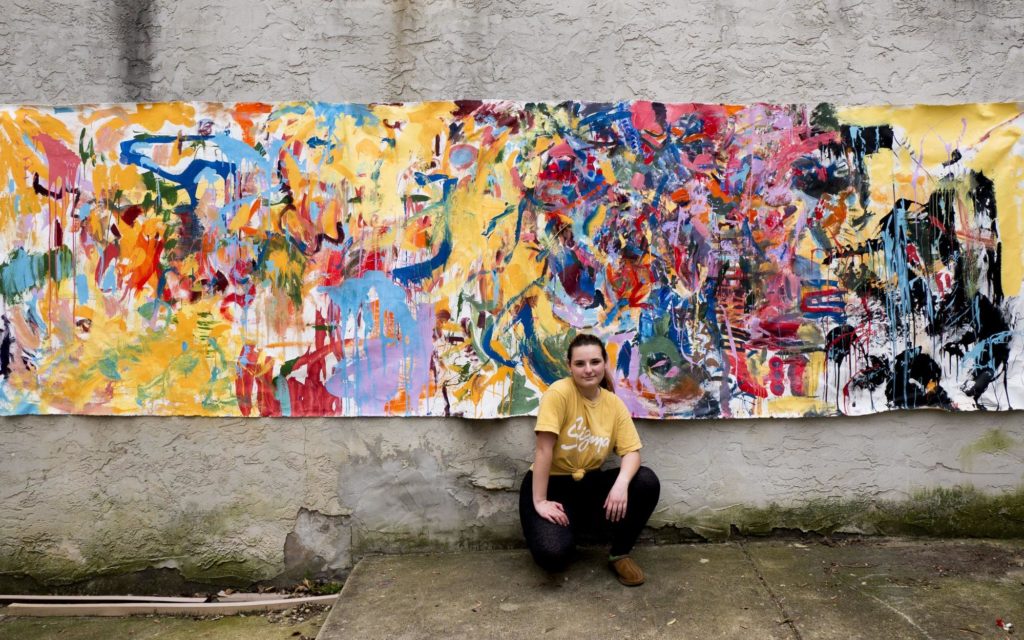 Bio:
Haley Mosseri is a senior fine art major at The College of New Jersey from East Brunswick, New Jersey, graduating in 2020 with her BFA.  She is an abstract painter interested in how her work, conceptually driven by personal experience, connects to the emotions of viewers. Some recent shows include her senior solo exhibition "Persist" at The College of New Jersey and exhibitions at Alfa Art Gallery, Trenton's Art All Night and the Ellarslie Art Museum. 
Artist Statement:
My unstretched six by eighteen foot abstract painting, "Evoke," works as a narrative over time. The story itself is up to each individual's interpretation based on the emotions they feel as their eyes move across the work. I layer on, scrape away and splatter paint, often combined with shampoo or modeling paste, to create a fresh variety of marks. The bold texture, bright colors and dynamic compositions take viewers on a journey throughout the piece. 

Shayla Nolan: What artists or historical movements inspire you and your artwork?
Haley Mosseri: The abstract expressionist movement was a big inspiration to me because it was the first time I saw how abstract artists fit into art history. Some artists that have inspired my paintings are Sam Gilliam, Katharina Grosse, Lee Krasner, Carollee Schneeman and Yayoi Kusama. Whether they are draping large painted canvas, creating environments or conveying emotion through the language of paint, I aspire to be as successful in my craft and keep on producing for myself and for others.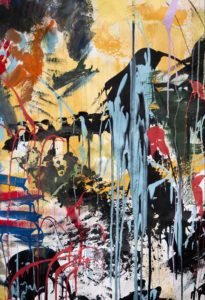 SN: So which studio class has been the most valuable to you and your growth as an artist?
HM: The reason my painting classes were the most helpful to my growth as an artist is because they cultivated my exploration and development of abstract painting. In High School, I was never introduced to abstract art, so experiencing the freedom to really get in touch with my inner emotions and paint intuitively in Painting I was eye-opening. I became less obsessed with working towards a specific and realistic result and let the process of creation guide my decisions."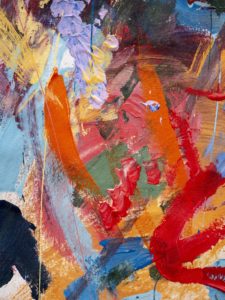 SN: How do you get into your "zone," your creative headspace? And do you have any favorite musical artists that have inspired you?
HM: One of the ways that I get into my creative headspace is to listen to music. Some of my favorite artists are Panic at the Disco, Fall Out Boy, Cage the Elephant and Catfish and the Bottlemen. I can relate the instrumental parts of songs to the paint in my abstract pieces. The viewer or listener is relying on the emotions the work makes them feel to help them understand the painting or song. I try and connect with my audience using mark-making, color, and composition the same way a musician might use rhythm, the key the song is in, and chord progressions.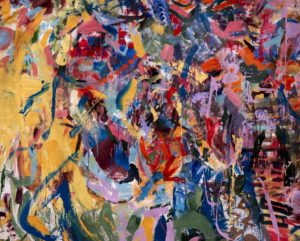 SN: What does self-expression mean to you and why is it important?
HM: Self-expression is the ability to take what you are feeling or thinking and portray it in a way that others can experience it and understand it (often through visual arts, music, dance, theater, film, poetry, writing etc). This is important to me because I use art-making as a coping mechanism to express myself and say what I want to the world. I am able to turn my negative emotions into something I am proud of and something others can learn from and relate to through my art all while creating something beautiful. It is also cathartic to throw paint onto canvas and not think you are ruining something.
SN: So in one word, how would you describe the core of your practice?
HM: Free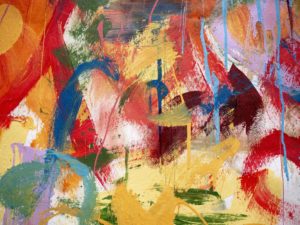 SN: What is your current studio set-up/ working process at home? Have you adapted your working process based on current conditions?
HM: My family helped me turn my garage into an art studio! In the center, I have a table that has all my materials, and I have a giant wall to hang canvas. My garage has a wall larger than my senior studio did, so that is a silver lining of painting at home.