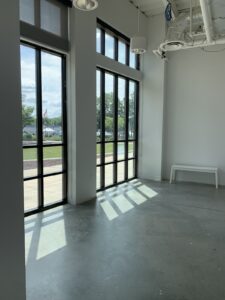 Apply by June 1!
Get your application in to show your work in the student galleries next fall.  The shows in these side galleries make an exciting and important contribution to cultural life on campus, and offer an excellent opportunity to exhibit your artwork. Learn more about the process here. 
Exhibition Applications
Exhibition applications are reviewed by the Exhibition Committee of the Department of Art and Art History. Criteria for review includes quality of the exhibition proposal, relevance to academic curricula, feasibility of installation and presentation, and innovation. Applications are encouraged from academic departments throughout the College; however, if space is limited, priority will be given to Art and Art History Department applications. The application is available here. 
All student exhibitions must have a faculty sponsor.
Exhibitors should become familiar with the three Student Gallery spaces—Rooms 111, 118, and 119—prior to applying in order to determine which space is best suited to the proposed exhibition. For more information on planning and installing your exhibition, consult the Art Exhibitions LibGuide on the TCNJ Library website.