Postponed! Date TBD
AIMM Building, The College of New Jersey
Workshop is free of charge, but advance registration is required.
Join us for a participatory workshop with Philly-based documentary and portrait photographer Ken McFarlane. In this workshop, McFarlane will discuss the power of photography, and his approach to making photographs that are purposeful, intentional, and artistic.
Participants are encouraged to bring a cell phone camera.
To register for the workshop: https://forms.gle/zDD21eVSWqAnDr9g6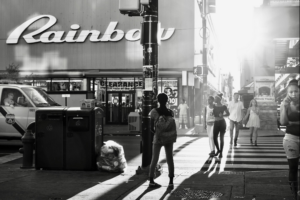 As stated on his website:
"Ken McFarlane is a West Philadelphia based documentary and portrait photographer. He has over 20 years experience in commercial, editorial, documentary photography and filmmaking. His current body of work focuses on producing visual and audio histories of Philadelphians in the present as a means of documentation to preserve collective memory while encouraging future generations to remember, re-examine and realize their own potential."
This workshop is offered in conjunction with Carrie Mae Weems: The Usual Suspects, on view in the TCNJ Art Gallery from August 30-October 30, 2022. For more information about the exhibition, please visit the exhibition website.