Student Exhibitions by Seniors: Kailee Lockwood and Carly McKenzie
Art and Interactive Multimedia Building Student Gallery 111
November 17th–December 10th, 2021
Opening Reception November 17th, 5:00 PM – 7:00 PM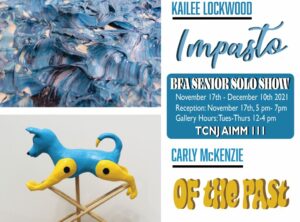 Kailee Lockwood presents Impasto, a show exhibiting a series of paintings based on her explorations of color, texture, and depth within painting. Painting is Lockwood's primary medium, and she currently explores paint in a three-dimensional way. She uses oil paint and modeling paste for her work to get her desired texture for each painting as her work references texture and color found in nature. Lockwood also experiments with non-traditional media in paintings such as hot glue, India ink, and food coloring.
https://lockwok2299.myportfolio.com
Carly McKenzie presents Of the Past, a show exhibiting three antique-inspired toys and three screenprints. McKenzie is a multimedia artist that experiments with various materials such as resin, wood, and clay. In this body of work, she combines her interests in toy-making, sculpture, and screenprinting to honor three animals from history. Her background in animal science has influenced her current work and inspired the pieces in this show. Screenprints that correlate with the toys are inspired by retro toy packaging and graphic posters. The show uses interactive and playful kinetic toys to bring the animals' remarkable stories to life.
www.instagram.com/carlymckenzieart