BFA SENIOR  SOLO SHOWs
Illustration, Animation, and Sequential Art
TCNJ AIMM 111
November 3rd – November 14th, 2021
Opening Reception: November 3rd 2021
Time : 5:00pm – 7:00 pm
Free Entry and Snacks
---

CJ Han:  Breathe
CJ Han presents her show Breathe, a collection of surreal illustrations and projections. Their work deals with explorations of journey and identity in a collection of self portraits that they have been developing throughout the last four years. Han works with narratives and storytelling in their art to portray the struggle of growing up, family, their regrets and uncertainties, and childhood dreams.
https://www.artstation.com/donquikoats
---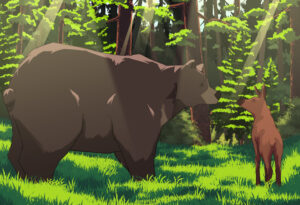 John Linaris:  Bear and Moose
John Linaris presents his first exhibition
Bear and Moose
, an assembly of digital illustrations. His exhibition communicates his passion for storytelling through narratives in his illustrations. Heavily inspired by animated movies and media from his past, John's work captures the feelings of nostalgia and the warmth of family through his characters.
Gallery Hours Mon – Friday 12-7pm, Sun. 1-3pm/