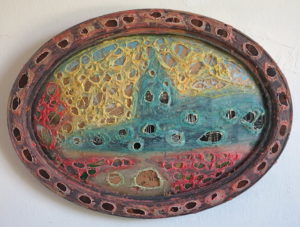 Michael Mahalchick: Bubble
November 14 – December 9, 2018
Opening Day Artist's talk: Wednesday, November 14, 4:00-5:00pm with reception to follow
The College of New Jersey Art Gallery is pleased to announce a new installation, Bubble, by Brooklyn-based artist Michael Mahalchick. For TCNJ, Mahalchick has created an installation of his assemblage-style sculptures and paintings, pieced together from discarded clothing, thrift-store finds, bits of treasure and trash and coated with a latex "skin" to create an unsettling and uncanny lost-and-found. Accompanied by a soundtrack of AM talk radio, Mahalchick's installation places the viewer in a bunker-like bubble of American cultural debris.
Please join us for an artist's talk on Wednesday, November 14 in the TCNJ Art Gallery in the AIMM Building. A reception with the artist will follow.
TCNJ's Art Gallery is located in the AIMM Building on the campus at 2000 Pennington Road in Ewing, NJ. Gallery hours are Tuesdays, Wednesdays, and Thursdays from 12:00 until 7:00, and Sundays from 1:00 until 3:00.  
All Art Gallery exhibitions are free and open to the public. For more information about exhibitions, for directions and parking, or to schedule a special tour, please contact tcag@tcnj.edu or call 609.771.2633.