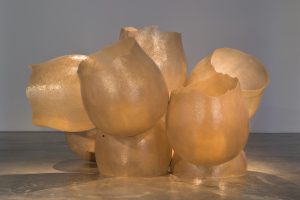 The TCNJ Art Gallery just opened an exciting new exhibition, Jessica Rath: A Better Nectar, a multisensory installation based on the artist's extensive research into co-evolutionary communication between flowering plants and their pollinators. The exhibition opens to the public on February 1 and is on view until April 9, 2017. The free public opening reception is Wednesday, February 1, from 5-7pm, with an opening day talk by the artists on Feb 1 from 4-5pm.
In A Better Nectar, Rath creates an immersive experience using sculptural forms, light, and sound to explore how bumblebees learn and remember multisensory floral symbols to find better nectar. Visitors will encounter human-scaled sculptures that evoke a bee's sensory journey from nest to nectar, with audio and visual elements that interpret the bee's experience of an audibly and visually pulsing world. A Better Nectar is informed by Rath's research and discussions with the scientists at Leonard Bee Lab at the University of Nevada, Reno.  
The exhibition's highlight, "Resonant Nest," is a responsive acoustic sculpture taking the form of a human-scaled bumblebee nest. Human voice interpretations of bee communication emanate from the sculpture, designed in collaboration with Ian Schneller of Specimen Products, Chicago. The score, created by Los Angeles-based composer Robert Hoehn and performed by the nationally renowned California State University Long Beach Bob Cole Conservatory of Music Chamber Choir, directed by Dr. Jonathan Talberg, will shift with live changes in the local New Jersey weather.
Jessica Rath: A Better Nectar
TCNJ Art Gallery
Art & Interactive Media Building
February 1 – April 9, 2017
Opening Reception:
Wednesday, February 1, 5:00-7:00 pm
Discussion with the Artists:
Wednesday, February 1, 4:00-5:00 pm, AIMM Room 125
Brown Bag Lecture Series: Anne Leonard, Leonard Bee Lab at the University of Nevada, Reno
Friday, February 3, 12:30-1:30pm, Mildred & Ernest E. Mayo Concert Hall, Music Building
Satellite Exhibition:
Selected images from a better nectar on display in the Biology Department
February 1 – April 9, 2017
TCNJ Biology Building
All events are free and open to the public.
TCNJ Art Gallery
Arts and Interactive Multimedia Building (AIMM)
2000 Pennington Road
Ewing, NJ 08628
609-771-2198
Gallery Hours:
Tuesdays, Wednesdays, and Thursdays 12:00 – 7:00
Sundays 1:00 – 3:00.
tcnj.edu/artgallery
Jessica Rath: A Better Nectar premiered at the University Art Museum, California State University Long Beach (UAM) and was organized Kristina Newhouse, UAM Curator of Exhibitions. The project was supported by Metabolic Studio, The Peter S. Reed Foundation, The Elizabeth Firestone Graham Foundation, and a California Community Foundation Mid-Career Fellowship for Visual Artists. 
This exhibition and related programming is co-sponsored by TCNJ School of Science and Department of Biology.
Additional funding generously provided by The Cultural and Intellectual Community Program Council (CICPC) of TCNJ.
Exhibitions at TCNJ are funded in part by the Mercer County Cultural and Heritage Commission through funding from the Mercer County Board of Chosen Freeholders, and the New Jersey State Council on the Arts/Department of State, A Partner Agency of the National Endowment of the Arts.
Image Caption:
Installation view, Jessica Rath, Resonant Next 2015
Polyester resin, fiberglass, electronics, and speakers
Cells and direction by Jessica Rath
Music and interactive systems design by Robert Hoehn
Photograph: Aisha Singleton