Water Bar/ Colin Kloecker and Shanai Matteson
https://www.water-bar.org/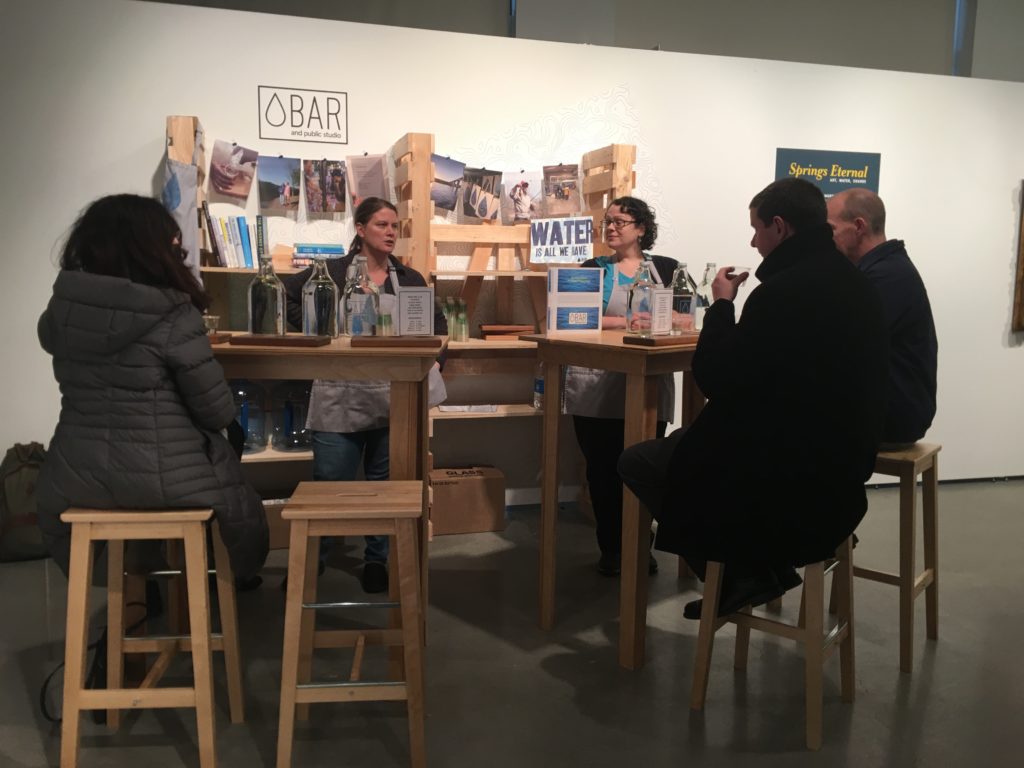 The Water Bar is an artist-led project, developed by Colin Kloecker and Shanai Matteson, designed to build relationships and transform culture through the creation of social spaces, popular education programs, tools and strategies for leadership development, and public art projects — through serving water. TCNJ Art Gallery partnered with The Water Bar to develop a version of the Bar tailored to the TCNJ Gallery, which hosted tastings of local water, and discussions/activities with TCNJ faculty and community members involved in water issues.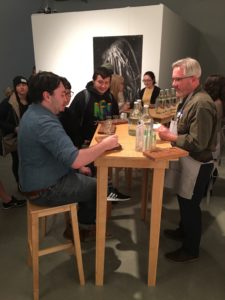 Feb 13 4:00-6:00 pm
WaterBar
Water on campus and in the community;
WaterTenders: Amanda Radosti, TCNJ Environmental Program Specialist, and Dr. Diane Bates, Professor of Sociology

Feb 26, 8pm-10:30pm
TCNJ Student Rec Late Night Activities (TCNJ Student ID required!)

WaterBar: Students TBD
Game Night!
Mobile Print Lab
pop-up concert (Open Call for performances)
Mini-concert preview

March 6 5:00-6:30
Art Gallery Popup Open House & Poetry Night
Water Bar: Poetry, Water, & Research
Water Tender: Elizabeth Mackie, Professor, Department of Art and Art History

Poetry Reading
WaterBar Service
Snacks!

March 8, 8:00 pm
Concert Band & Wind Ensemble Present "Springs Eternal"
Mayo Concert Hall, TCNJ.
March 8, 8:00 pmPre-concert Discussion, 7:15 pm
Water Bar Service  @ Mayo Concert Hall
The Art Galley will be open from 7:00-8:00pm
March 13 4:00-6:00
WaterBar Event: Environmental Education (Partnered event with The Watershed Institute)
Water Tender at the TCNJ Art Gallery: Dr. Lauren Madden, Associate Professor of Elementary Science EducationWater Tender at The Watershed Institute: Jeff Hoagland, Education Director at The Watershed Institute

We'll also be celebrating the premier of student soundscape compositions, created for this exhibition using both digital audio editing and music composition techniques. Students designed their sound pieces to accompany specific artworks in this Art Gallery installation, deriving inspiration from the visual themes of water and change. This creative learning activity was supported in collaboration with the TCNJ Art Gallery, the Department of Interactive Multimedia, the Department of Music, and the TCNJ Institute for Social Justice in the Arts.