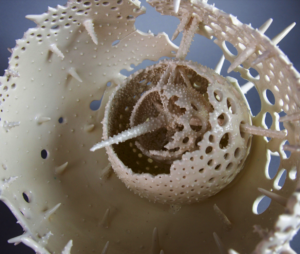 Marguerita Hagan http://www.margueritachagan.com/
Marguerita Hagan's artwork stems from a deep compassion: to care for the plants and animals that share our environment and to work for their survival, she believes we must first love them. In her sculptural installations, Hagan presents finely crafted, ceramic sculptures inspired by the forms of all sorts of water-based life, from great blue whales to diatoms, microscopic, single-cell algae notable for their filigreed, architectural structures of almost unlimited variety. Though mostly unseen by us, diatoms flourish in water and contribute significantly to the earth's ecosystem: important as photosynthesizers, they are a crucial source of food and energy in both fresh- and saltwater. Through Hagan, we see these creatures enlarged a thousand times, scattered across the gallery wall, affoding us a view of these single-celled structures at eye height and at our scale, as if we're sharing a stream with them. Seeing these life forms eye-to-eye, or eye-to-flagellum, we can marvel at their beauty, appreciate the complexity of their forms, and, Hagan believes, be inspired to take responsibility for their survival. 
Bio Philadelphia-based Marguerita Hagan earned her BFA in ceramics from the Pennsylvania Academy of Fine Arts and her MFA from James Madison University  (Magna Cum Laude). She has exhibited her work at both art and science venues, including the Pennsylvania Academy of Fine Art, the Schuylkill Center for Environmental Education,  She recently completed a residency, Wet Lab, at the Schuylkill Center for Environmental Education (2018) and her work, People Protect What They Love, was featured at the Science Museum of Virginia in 2017. Recent installations of her La Mer & Wildlife series include the Philadelphia International Airport exhibitions program (2017) and a solo exhibition at the Esther M. Klein Gallery at the Philadelphia Science Center (2015-16). Previously, Hagan has exhibited her work at The State Museum of Pennsylvania (2018), NY Hall of Science (2017), ArtBox (2016), the Susquehanna Art Museum (2015), Pew Center for Arts and Heritage (2012), among countless others.