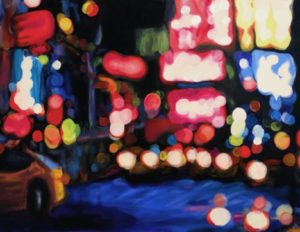 Stephanie Rosenthal (she/her):
Stephanie Rosenthal is a New Jersey-based mixed media artist. She has recently acquired a degree from The College of New Jersey with a Bachelor's of Fine Art along with a marketing minor. Rosenthal primarily works with 2D media and has recently begun to incorporate installation into her practice. Her subject matters pertain to prominent and transformative elements in life that collate to form a personal identity. The artist has expressed that her work can be a whole range of things from family to home or religion, but recently she has been more drawn to topics pertaining to the body and her relationship with it. Rosenthal is fortunate to have a job in digital cartography lined up for her when she graduates, but she is actually most looking forward to travelling again.The artist has expressed that she enjoys seeking meaning and inspiration from the world around her. She has a few travel destinations in mind, and if she is lucky, she will find her next step in her artistic career along the way.
In her senior exhibition piece, Rosenthal strives to deconstruct and unlearn the over-sexualization of the female body as she produces an array of felt breasts and mixed media breastplates for her boutique-like installation Body Armor. Similar to how one shops for bras or jewelry, a diverse collection of soft, fuzzy, strange breasts along with paper-dipped multimedia breastplates are elegantly displayed to pick and choose from. She humorously addresses themes of objectification, consumption, violation, censorship, and body positivity through the female gaze, which recognizes women not merely as objects of desire, but with desire and purpose. The breasts are made to be appreciated simply for their form, texture and color as opposed to the biased narrative derived from media which intends to shame them. The irony, though, is in the truth that neither the fake breasts nor breastplates provide true protection, rather the illusion of it — a false sense of security.