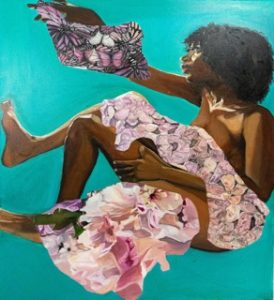 Jayln Giles-Ewell | Interviewed by Giuseppina Di Meglio
My name is Jayln Giles-Ewell. I am a graduating, fine arts senior as well as a New Jersey-based multimedia artist. Most of my recent works have been in oil, however I also do traditional illustration & digital illustration. My framework of art is mostly centered around my experience as a Black woman, as well as all that may entail through an artistic medium. I also have involvement on our campus as both a peer educator and an e-committee member of our NAACP chapter, and I wish to further pursue a position as a licensed counselor who also utilizes art therapy within their practice.
My work is predominantly based on my own experience. Within the past, I've done a lot of work that centered on my experience as a Black woman. However, for this show, I've decided to discuss identity and how it pertains to individuals who identify as queer or have a gender identity other than the norm. My purpose in doing this was simply because I recently discovered more about my own sexuality, and wanted to further explore that within my art.
As I said before, I am considering two career plans. I've taken a loose interest in art administration; however, my primary interest is based in potentially being a licensed counselor and utilizing my studies in art to incorporate art therapy into my practice. I personally came into art as a means of further expressing myself in a healthy way, therefore, I want to be able to encourage others to do the same, when it comes to exploring and processing different personal traumas.