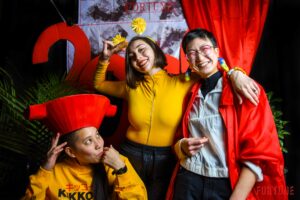 Opening Reception & Artist's Talk with FORTUNE
Wednesday February 15
4:00 with reception to follow
TCNJ Art Gallery, AIMM Building
FREE and open to the public
Join us to celebrate the opening of SHARE and an artist's talk with exhibition artists, the collective FORTUNE. The members of FORTUNE, Andrienne Palchick, Heidi Ratanavanich, and Connie Yu, will share their practice, their thoughtful and joyful approach to community-focused projects, and what it means to work as a collective in the public space. 
---
FORTUNE / Many Folds Press: FORTUNE (b. Year of the Earth Pig 2019) is a Philadelphia-based print collective, assembled by and for queer and trans Asian publics. We approach printing and self-publishing as a practice of learning, gathering, remembering, and making multiple. Conceived by Andrienne Palchick, Heidi Ratanavanich, and Connie Yu, FORTUNE is a public project, tended to collectively.
As of 2022, FORTUNE also operates as a small-scale risograph studio, called Many Folds Press, where they work to provide accessible and responsive print services, primarily in Philadelphia, to make room for more queer BIPOC stories, and to celebrate their own. Their catalog broadly includes resource guides and functional objects, distributed through alternative, slow, or intentional ways.
---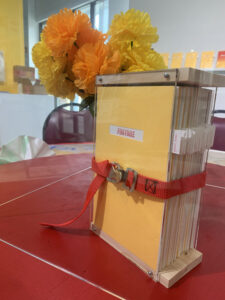 ---
TCNJ's Art Gallery is located in the AIMM Building on the campus at 2000 Pennington Road in Ewing, NJ.
Gallery hours are Tuesdays, Wednesdays, and Thursdays from 12:00 until 7:00, and Sundays from 1:00 until 3:00. 
All Art Gallery exhibitions are free and open to the public. For more information about exhibitions, for directions and parking, or to schedule a special tour, please contact tcag@tcnj.edu.