SHARE
Featuring FORTUNE and Piotr Szyhalski/Labor Camp
February 8 – March 12, 2023
SHARE features the work of artists and collectives who respond to complexities of the times and the ever-evolving news cycle with a particular kind of generosity. In particular, these artists engage with the idea of sharing: what a community shares, how information and ideas are shared, experiences that strangers might share. Sharing can be about disseminating – sharing news, sharing information – but sharing can also be about holding something in community – language, knowledge, and memories can be shared within a group.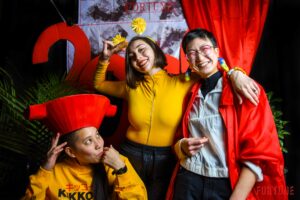 FORTUNE / Many Folds Press: FORTUNE (b. Year of the Earth Pig 2019) is a Philadelphia-based print collective, assembled by and for queer and trans Asian publics. We approach printing and self-publishing as a practice of learning, gathering, remembering, and making multiple. Conceived by Andrienne Palchick, Heidi Ratanavanich, and Connie Yu, FORTUNE is a public project, tended to collectively.As of 2022,
FORTUNE also operates as a small-scale risograph studio, called Many Folds Press, where they work to provide accessible and responsive print services, primarily in Philadelphia, to make room for more queer BIPOC stories, and to celebrate their own. Their catalog broadly includes resource guides and functional objects, distributed through alternative, slow, or intentional ways.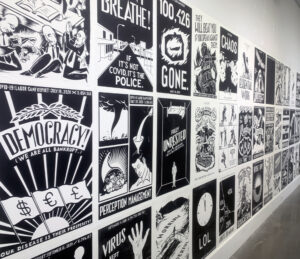 Piotr Szyhalski's COVID-19 Labor Camp Report consists of 212 images by artist Piotr Szyhalski, created over eight months through a daily drawing practice that traced the course of the COVID-19 pandemic in real time.  Szyhalski began the series as a response to and documentation of his day-to-day experience of isolation, uncertainty and sadness during the early days of the pandemic. A new drawing was posted on Instagram each day, an act of sharing that rendered the drawings a witness to a crisis we all shared. Labor Camp Reports reflected on those things we saw and heard together while apart: about mounting covid deaths, about vaccines, and about fear, about hope: the shared experience of isolation.
---
Related Events:
Opening Reception & Artist's Talk with FORTUNE
Wednesday February 15
4:00 with reception to follow
TCNJ Art Gallery, AIMM Building
Artist's Talk with Piotr Szyhalski:
Monday, March 6 1:00- 2:00pm
Via zoom. Free and open to the public, but registration required: Click here to register! 
Or join us for a watch party in the TCNJ Art Gallery, AIMM Building
Zine/RISO Workshop with FORTUNE
Tuesday, February 28 6:30-8:00pm
TCNJ Art Gallery, AIMM Building
Registration Required. Space is limited!
https://forms.gle/RmU1vR76dam8mSnR6