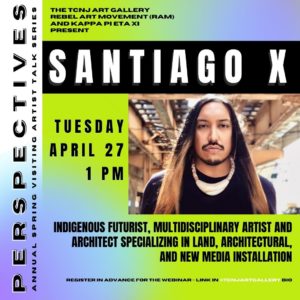 Tuesday, April 27 1:00 pm
Registration Free! but please register in advance: https://tcnj.zoom.us/meeting/register/tJcrdOCtrD4vHNE9PTvPY38qJt2UTh-m0I8W 
SANTIAGO X, M.Arch, MFA is an Indigenous futurist, multidisciplinary artist and architect specializing in land, architectural, and new media installation. He is an enrolled citizen of the Coushatta Tribe of Louisiana (Koasati) and Indigenous Chamoru from the Island of Guam U.S.A (Hacha'Maori).
Currently, X is reinvigorating the ancestral mound building practice of his Koasati people, via two large-scale augmented public earthwork installations along the Chicago and Des Plaines River in Chicago, Illinois. This is notably the first time effigy earthworks have been constructed by Indigenous peoples in North America since the founding of the United States. POKTO ČINTO (Serpent Twin Mound) publicly opened on Indigenous Peoples Day, October, 14th 2019.