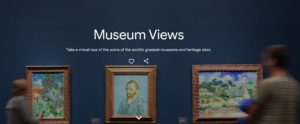 If you're an art or art history student, you probably look forward to your semesterly museum/gallery trip. Thanks to Google Arts & Culture, you can take a virtual tour of museums and art galleries across the globe! From the Museum of Modern Art in NYC to The National Gallery in London and beyond, over 2500 art institutions worldwide have curated online exhibitions. From the comfort of your own home, you can explore these museums and galleries to brush up on your knowledge of art history! Click the link below to begin your virtual tours.
Happy learning! https://artsandculture.google.com/partner?hl=en
Post submitted by Lily Gilston, a Fine Arts student at TCNJ who loves drawing, sculpture & performance art.