Artist Yixuan Pan invites students to participate in her performative workshops: meet the artist, have fun, and take part in the creation of a new work!
Pan's residency will take place between October 29th and November 3rd with workshops taking place on Friday, October 25th and Wednesday, October 30th.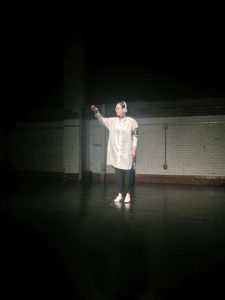 Friday 10/25 
5:00-6:30
Visual Scores Workshop
Join Yixuan Pan for a workshop on mark-making, visual score-generating, and a conversation on translation, broadcasting, and communication. The scores will be on display in the art gallery. We will collectively compose a choir performance for the next workshop.
Wednesday 10/30
3:00-4:00
Workshop
Join Yixuan Pan for an experimental workshop and explore choir structures, group communication and power dynamics. We will be making noise and activating the space of art gallery.
4:00-5:00pm Performance and artist's talk
5:00pm  Reception with the artist
Please email margarep@tcnj to participate in the workshops