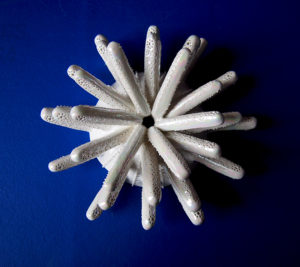 Diatom Odontella Aurita: Spiral Colony: handbuilt ceramic (left)
Thalassionema Diatom Shield: Stellate Colony, 8″x8″x4″ (right)
The TCNJ Art Gallery welcomes artist Marguerita Hagan this October 18-31. Hagan will be in residence in TCAG, working on a new body or work and preparing for her sculpture to be a part of the upcoming TCAG exhibition, Springs Eternal, opening at the beginning of Spring term.
Hagan's work is rooted in deep research and close observation of the natural world. She draws inspiration from the structural complexity and engineered beauty of all forms of life, from the single-celled diatoms that produce 20% of the oxygen we breathe, to the turtles, whales and crabs that are native to the region's coastal waters. Students, faculty, and community members are invited to stop by the gallery to see some of Hagan's recent work, learn about how she uses interdisciplinary research to inform her work, and talk with her about her process. Check back for a schedule of open hours in the gallery during her residency.
To learn more about Hagan's work: http://www.margueritachagan.com/
---
Related Event: Marguerita Hagan Artist's Talk
Thursday Oct 18 4:00-5:00
Gallery Reception: 5:00-7:00
TCNJ Art Gallery, AIMM Building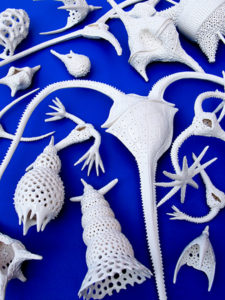 This event is free and open to the public. Visitor Parking information is available at: http://parking.tcnj.edu/resources/visitors-guests/.