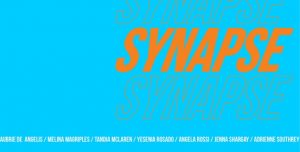 May 6th – 19th
Opening Reception: Wednesday, May 9 from 5:00-7:00pm
   Seven emerging artists display various works that represent the connections and relationships channeled through synapses in the brain. These artists spent the past four years exploring the concept through their own mental awareness, material, and creative knowledge and experiences. A synapse is the point where impulses are passed on in the brain and is a vital area of connection.
   The works of Aubrie De Angelis, Melina Magriples, Tandia McLaren, Yesenia Rosado, Angela Rossi, Jenna Shargay, and Adrienne Southrey are four years in the making, culminating in the Senior Fine Arts & Lens Based BFA Exhibition. The works on display will include paintings, photographs, installations, and more. The artists present an awareness of how one's mental space interprets things of value. While each artist explores individual connections, they wish for viewers to reflect on their own relationships and the meaning within contexts of life's experiences.