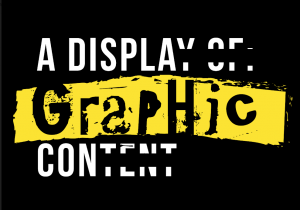 What is censorship and how do we contextualize it? Is censorship necessary in order to maintain societal standards? Is it restrictive to the creative process? Should we conform to what is 'appropriate'? Or should we dare to be different?
Rob Birnbohm, Danielle Davis, Natalie La Spisa, Lauren Marsiglia, Jaclyn Newberry, Zach Paige, Eric Phillips, Jason Proleika, Jazmine Ramirez, Mike Scilla, Sophia Spiridakis, and Jess Tirone.
Join these twelve graphic designers as they showcase their exploration of censorship and navigation of the choices of communication and self-expression in their creations. They share their experiences qualitatively through their work, with each portfolio offering a unique window into the designer's development, style, and personality. 
April 28 to May 18 in AIMM Student Galleries 111 and 119
Opening Reception: Saturday, April 28 from 1:00 to 4:00pm
Artist's Talk: Wednesday, May 2 from 3:00 to 5:00 pm in AIMM 125.