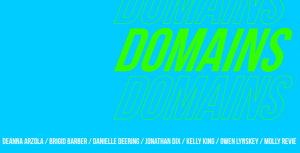 April 11 – April 29th, 2018
opening reception: April 11th 5:00 – 7:00 P.M.
Seven emerging artists announce today that session one of their thesis exhibitions will take place in the Art and Interactive Multimedia Main Gallery from April 11th through April 29th. Works include, weavings, concrete and glass sculptures, videos, installations, paintings and more. These various mediums express a range of themes, all fallIng under "Domains," which is the title of this show. Domain, relates to the home or the Internet. It can be defined as "the territory by a single ruler or government" and "a realm or range of personal knowledge or responsibility." It also has connotations revolving around fields of thought, action and influence. Artwork in Domains highlights these topics and ideas through exploration of space, color, imagery and form. Each artist has been investigating perceptions of their own domain for past four years in a very sensitive and active way. They hope for viewers to personally reflect on their bodies, their environments, their access to information and our current social climate. You are invited to the opening, which will be held on April 11th from 5:00-7:00 PM. Refreshments and snacks will be provided. We hope you can make it.