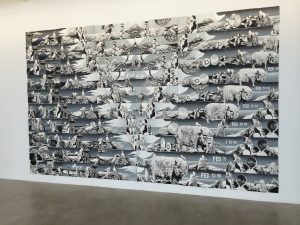 Ink Babel, 2014
Ink and oil on paper
Courtesy of the artist and the Bockley Gallery
Opening DayArtists's Talk: Wednesday, November 1, 4:00-5:00pm in the Art Gallery
Opening Reception: Wednesday, November 1, 5:00-7:00pm in the Art Gallery
Ravenous Eye features works on paper and videos by Chicago-based artist Andrea Carlson. In her mixed-media drawings, Carlson layers images of the remains of nature and culture – 70s supercomputers, cameras, skulls, indigenous figures, scorpions, cult horror movies, to name just a few – in vividly realized, filmic landscapes. Through complicated, conflicted, and conflicting images, Carlson indulges her appetite for stories, and unmasks the cannibalistic nature of cultural consumption and appropriation.
Carlson's Anishinaabe (Ojibwe), French and Scandinavian heritage provides a rich foundation for her investigations of cultural consumption, history and identity, and the intrinsic power of storytelling. Carlson received her MFA in Visual Studies from the Minneapolis College of Art & Design in 2005 and a BA in Studio Arts and American Indian Studies from the University of Minnesota, Minneapolis in 2003. Carlson has been the recipient of numerous grants and fellowships including those awarded by the Carolyn Foundation, the Joan Mitchell Foundation, the Minnesota State Arts Board, and the McKnight Foundation.
In addition to her one-person shows at Bockley Gallery (2008, 2011, and 2014), Carlson's work has been the subject of solo shows at the Minneapolis Institute of Art (2016) and La Centrale at the Powerhouse, Montreal QC (2016); the Plug In Institute for Contemporary Art in Winnipeg MB (2014); the Plains Art Museum, Fargo ND (2010); The Smithsonian National Museum of the American Indian, New York NY (2009); and Soo Visual Art Center, Minneapolis MN (2006), among others. Since 1997 her work has been featured in numerous group shows across the US and Canada, as well as in Venice, Italy and London, England. In addition to the many reviews and articles on her work, Carlson has worked as a writer and curator, and she is an accomplished lecturer.
Carlson's work is found in private, public and corporate collections, including those of the Minneapolis Institute of Art, Minneapolis MN; the National Gallery of Canada, Ottawa, Ontario; the Plains Art Museum, Fargo ND; the Tweed Art Museum, Duluth MN; The British Museum, London, England; the Weisman Art Museum, Minneapolis MN.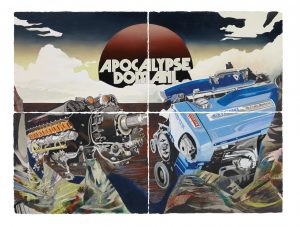 Apocalypse Domani, 2010
Oil, acrylic, ink, color pencil, and graphite on paper
Courtesy of Todd Bockley